Heart Attack Survivor Tommy Christopher Bitterly Refudiates Time's Top 10 Twitter Moments of 2010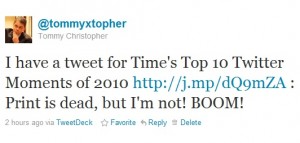 Time Magazine has released its list of the Top Ten Twitter Moments of 2010, and at least one member of the Twitterati isn't happy. Mediaite columnist and White House reporter Tommy Christopher, who nearly gave his life in a bid for Twitter celebrity, bitterly rejected the magazine's snub via his Twitter account.
I reached out to Christopher for comment, and in a Mediaite exclusive, he provided us with his thoughts on Time's entire list, including their snub of his heart attack live-tweets.

While angry at being left off of Time's list, Christopher acknowledged that it was a little weird for him to write about himself in the third person. "Still, though," he said, "what does a guy have to do to make that fracking list?"
Maybe if he gets worked up enough, he can have another heart attack, and perhaps make next year's list. Here is Time's list of Top Twitter Moments of 2010, with commentary by Tommy Christopher.
1. Kanye West Joins Twitter: I'ma let you finish, Time, but first, Kanye West didn't almost die to make Twitter history.
2. Conan O'Brien's Twitter Wit: Conan O'Brien got crapped on by Jay Leno. Join the club, Coco.
3. Justin Bieber, Trending No More: Twitter finagles its trending algorithm to screw Bieber out of his rightful trending props, then Time compunds the injustice by screwing me out of my Twitter props. I'm right there with ya, Biebs. Fight the power!
4. Library of Congress Archives Tweets: "We know some tweets are important…but are most really important enough to be in the Library of Congress?"
No, just the important ones!
5. New Twitter Design: Big whoop. I had my whole heart redesigned.
6.  From Twitter Feed to Hit Sitcom: What sense does it make for Time to censor the title to "Sh*t My Dad Says," but also include a screenshot of the titular Twitter account that says "ShitMyDadSays?" About as much sense as leaving me off of their list.
7. Journalist Freed After Tweets: I've got to hand it to Japanese journalist Kosuke Tsuneoka, he really knows how to overshadow a guy.  He tricked his Afghan captors into letting him tweet his location, and was released the following day. Still, Time even notes that "his release may not have directly resulted from the posts," so what's the big deal? Also, as Mediaite noted, this was the second time Tsuneoka had been abducted. C'mon, Kosuke, fool me once…
8. MTV Selects Twitter Jockey: Gabi Gregg wins a contest to become the first TJ (Twitter Jockey). That's impressive, until you consider that my main competitor was a guy named @Death!
9. Ivy Bean, Oldest User, Dies: Touché, Ivy. Touché.
10. @BPGlobalPR: Oil-Spill Satire: All the hilarious BP-satirizing tweets in the world can't "plug the hole"…in my heart.
Have a tip we should know? tips@mediaite.com