Here's How Trump's Campaign is Quietly and Not-So-Quietly Pandering to White Supremacists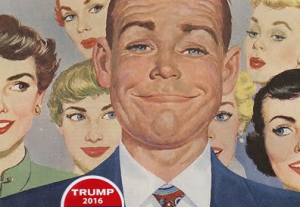 Recall all of the times we've reported on Donald Trump retweeting a white supremacist. Recall his lead-footed pace when disavowing the KKK following his endorsement from one of their leaders. Recall his dismissal of the Black Lives Matter movement. Recall his campaign attempting to Photoshop a model to appear black instead of just hiring a black model. Well, it all goes deeper than that.
Today, Fortune published an in-depth report that took a look at Trump's ties to white supremacy quite literally by the numbers. First of all, look at this:
The official Twitter account for Trump's campaign in Nevada follows #WhiteGenocide influencers #3 and #40.
The official Twitter account for Trump's campaign in North Carolina previously followed #20, #74 and #77.
Tana Goertz, a senior Trump advisor and co-chair of his Iowa campaign, follows #74 and #117.
Nancy Mace, Trump's South Carolina coalitions director, follows #20 and #35.
Elizabeth Mae Davidson, a former campaign staffer who later sued Trump's campaign for alleged sexual discrimination, follows #40.
Dena Espenscheid, Trump's Virginia field director, follows #5, #22 and #35.
That shows how many of the top white supremacists on Twitter are followed by members of Trump's staff. Their specific cause is that of "white genocide," which they believe is a conspiracy to wipe out white people altogether. They see Trump as the president who will prevent that and they regularly tweet things like this:
Stop white genocide!#WhiteGenocide #SouthAfrica #Zimbabwe @jmnr @drmoore @mattklewis @EWErickson @MattWalshBlog pic.twitter.com/jPuluHbjv0

— End Cultural Marxism (@genophilia) March 7, 2016
Bill O'Reilly is one step away from mentioning #WhiteGenocide. He finally gets the purpose of immigration.

— AdolfJoeBiden™ (@Bidenshairplugs) December 2, 2015
Both of those accounts are followed by Trump staffers. In fact, the top one, who is the most influential account tweeting about white genocide, is followed by spokesperson Katrina Pierson.
Here is Fortune again:
Several grassroots organizations campaigning for Trump also follow #WhiteGenocide influencers. The most notable example may be Students for Trump, a national organization whose top two student leaders have met personally with Trump. Its main Twitter account (@TrumpStudents) follows nine of the top 100 #WhiteGenocide influencers, plus users like @WhiteAmericaKKK.

Even the Twitter account for @USAFreedomKids, the young girls whose performance for Trump in Florida became a viral sensation, follows 13 of the top 100 #WhiteGenocide influencers, plus another account that promotes a pro-Hitler documentary called The Greatest Story Never Told.
Trump is not alone, of course; the account for Ted Cruz follows 14 of the #WhiteGenocide influencers. Nearly 68% of all of the influencers follow Trump and almost 18% follow Cruz.
[image via screengrab]
For more from Lindsey, follow her on Twitter.
This is an opinion piece. The views expressed in this article are those of just the author.