Here's What Happened When 'Giant Meteor' Was Polled as an Alternative to Clinton, Trump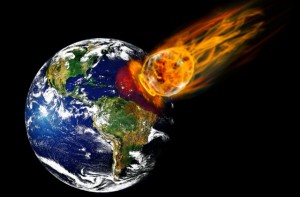 With many people frustrated by Hillary Clinton and Donald Trump as their two options in the fall, the "SMOD" meme is starting to make a big comeback.
What's SMOD, you ask? Sweet Meteor of Death.
Yes, the daily grind of the campaign has led people to look at their options and go, "You know what? I'd rather see the end of all life as we know it. Bring on the meteor."
There's even an official Sweet Meteor O'Death presidential Twitter account:
This fall, you will reflect on this election & think, "We've made a terrible mistake."

And while you're thinking, that's when I'll impact.

— Sweet Meteor O'Death (@smod2016) June 19, 2016
Dear GOP: You've got quite a mess on your hands. Fortunately, my entrance strategy is also your exit strategy. pic.twitter.com/vkiGDPMPL9

— Sweet Meteor O'Death (@smod2016) June 21, 2016
So Public Policy Polling decided to get some actual numbers [PDF] on where SMOD polls. And surprisingly, it does pretty well.
In a choice between Clinton, Trump, and "a Giant Meteor hitting the earth," 13 percent went with the meteor, while Clinton still beats Trump 43-38.
And if you take the meteor out of it, Clinton wins 48-44.
Oh, and if you're wondering "Hey, what about Gary Johsnon?", well…
We included Gary Johnson he got 5%, the meteor got 13%. Deez Nuts usually gets about 10% https://t.co/dlLkBZzPcU

— PublicPolicyPolling (@ppppolls) June 30, 2016
Yep, voters would rather see the end of all civilization than consider third-party options.
(And again, before you ask, if you throw Johnson or Jill Stein into the mix, Clinton still leads Trump 45-41.)
[image via screengrab]
— —
Follow Josh Feldman on Twitter: @feldmaniac
Have a tip we should know? tips@mediaite.com
Josh Feldman - Senior Editor