Hey, Commenters: Proposed NY Law May Require Us To Know Your True Identity (Yuck!)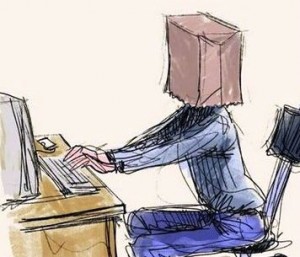 In today's edition of First Amendment FAIL: Wired reports that New York state proposed legislation would require New York-based websites (like this one!) to "remove any comments posted on his or her website by an anonymous poster unless such anonymous poster agrees to attach his or her name to the post."
Uh-oh. Watch out, Mediaite commenters!
Republican Assemblyman Jim Conte said that this legislation "turns the spotlight on cyber-bullies by forcing them to reveal their identity." Another Republican Sen. Thomas O'Mara said it would "help lend some accountability to the internet age."
The law would cover messages on social-networking sites, blogs, message boards and "any other discussion site where people can hold conversations in the form of posted messages." So basically: almost the entire Internet.
The bill also demands those sites to have a contact number or e-mail address posted for "such removal requests, clearly visible in any sections where comments are posted."
No vote on the bill has occurred yet, but as Wired notes: "Unless the First Amendment is repealed, they stand no chance of surviving any constitutional scrutiny even if they were approved."
Assemblyman Conte added that the law would cut down on "mean-spirited and baseless political attacks."
Well, that would eliminate many of our commenters' day jobs, eh?
Much of our office laughs would be eliminated, too, seeing as how much entertainment you all provide us.
So beware Gloves Donahue, Norman_Conquest, ChuckSacramento, etc.: We really, really don't want to know who you actually are. But soon the law may require it.
Have a tip we should know? tips@mediaite.com