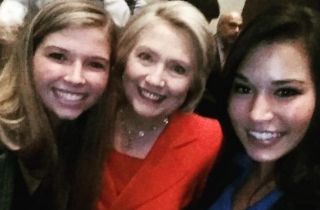 Whether you love them or hate them, selfies have become a global phenomenon. Given how many people take selfies while meeting VIPs or taking part in significant events, it was inevitable that Hillary Clinton would be asked to stand for a few while meeting constituents.
Clinton gave an interview with the Daily Herald Times, where she was asked about whether the countless selfie requests were a distraction from those who wait to have conversations about serious issues.
Clinton responded that selfie requests were not a huge time investment when speaking with smaller crowds, and that selfies meant a lot to younger voters invested in social media.
"I had some really meaningful interactions in and amongst all the selfies," said Clinton. She also elaborated that even when they are forced to wait, "people who have something they very much want to say, still say it."
Clinton did say that selfie requests while meeting large crowds does affect the "quality of interaction," but she tries to keep an even balance.
Indeed, Clinton has been in a lot of selfies already:
Got to take #selfie with the most inspirational woman out there! @HillaryClinton @HillaryforIA #fellowsIA #winning pic.twitter.com/DlEHVhW6Do

— Mikia Manley (@mikia_manley) July 17, 2015
Hillary Clinton selfie pic.twitter.com/OFITaGvxzN

— Jenny Valliere (@jennyv1029) July 18, 2015
WEE GOTT HILLARY!!! #HillaryInNH #Hillary2016
OH MY GOD I CANT GET OVER THIS ONE pic.twitter.com/by2PQC5RoC

— Em&Add (@PrezSelfieGirls) July 28, 2015
Not every 2016 candidate is so enthused, however. Ben Carson wrote an op-ed in April where he blasted President Obama's selfie at Nelson Mandela's funeral, saying they were something "we're better off without."
[h/t Business Insider]
[Image via Twitter]
— —
>> Follow Ken Meyer (@KenMeyer91) on Twitter
Have a tip we should know? tips@mediaite.com