Hillary Clinton Leads Marco Rubio, Chris Christie In National 2016 Presidential Poll
Clinton Leads Marco Rubio, Chris Christie In National 2016 Presidential Poll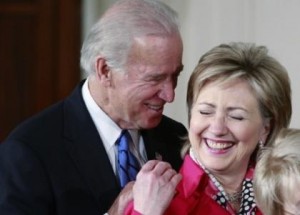 Too soon? According to a new poll by Public Policy Polling, outgoing Secretary of State and incoming First Woman President Hillary Clinton has a sizable lead over her possible 2016 Democratic competition, and handily beats every Republican thrown at her in hypothetical presidential match-ups. Even the Democrats' second choice, Vice President Joe Biden, wins all but one hypothetical match-up, tying New Jersey Governor Chris Christie at 44%. Among Republicans, Senator Marco Rubio (R-FL) enjoys a good-sized national lead, but is tied for the lead in first-in-the-nation Iowa… with former Arkansas Governor Mike Huckabee.
Four years as Secretary of State have left Hillary Clinton with huge approval ratings to go with the momentum she generated with her 2008 run for president, which translate into crushing advantages in these early polls:
Hillary Clinton continues to dominate both nationally and in Iowa. Nationally she's at 58% to 19% for Joe Biden, 8% for Elizabeth Warren, and 3% for Andrew Cuomo. She's even stronger in Iowa at 68% to 21% for Biden with no one else over 2%. Her favorability rating with Democrats there is 90/5.

…Clinton leads in head to head match ups nationally with all of the leading Republicans. She's up 8 on Rubio 49/41, 6 on Bush and Ryan at 49/43 and 50/44 respectively, and 46/42 on Christie. Biden does an average of 3 points worse than Clinton against the Republicans- he's up 48/43 on Rubio, 49/45 on Ryan, 48/45 on Bush, and ties Christie at 44.
Republicans seem to have settled on Senator Marco Rubio as the early frontrunner, at least nationally, but the Iowa results show a party in need of some modernization, as they've granted a tie with a guy who didn't want the job last time:
For the third month in a row in our national 2016 GOP tracking Rubio leads the way. He's at 22% to 15% for Paul Ryan, 13% each for Jeb Bush and Chris Christie, 11% for Mike Huckabee, 10% for Rand Paul, 4% for Bobby Jindal, 3% for Rick Perry, and 1% for Susana Martinez. Rubio continues to lead based on his appeal to the furthest right segment of the Republican Party- he's at 28% with 'very conservative' voters to 15% for Huckabee and 14% for Ryan.

Rubio's tied for the lead in Iowa as well. It's a closely contested picture there with he and Huckabee both at 16%, followed by Paul at 15%, Bush at 14%, Christie at 12%, Ryan at 10%, Martinez at 4%, and Jindal and Perry at 3%. Rubio leads with conservatives there as well but polls so far behind Huckabee with moderates that it's just a tie overall. One other interesting finding in Iowa is that Chris Christie has only a 36/33 favorability rating with Republicans in the state, including 36/38 with 'very conservative' ones.
Rubio polls well ahead of New Jersey Governor Chris Christie among Republicans, even though Christie polls highest against Hillary and Biden in head-to-head match-ups, an indication that, for now, Republican voters are more interested in ideology than in winning. That's the same dynamic that led to an endless parade of ideologically preferable frontrunners in the 2012 Republican primary, before they finally settled on the most "electable" candidate.
Hillary Clinton's eventual entry into the 2016 presidential fray is complicated by the possible candidacy of Vice President Joe Biden, who, even if he doesn't run, needs to maintain the possibility in order to avoid lame duckitude. Food for thought: there are no term limits on vice presidents. Hillary/Joe 2016, anyone?
Have a tip we should know? [email protected]