Hillary Clinton: Private Email Was a Mistake, But Only 'Because of the Reaction'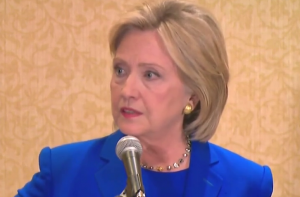 In a meeting with Iowa's Quad-City Times editorial board, Hillary Clinton explained that she does believe her use of a private email server while Secretary of State was a mistake… but only because of the way other people reacted to it.
An editor with the Times pointed out a seeming contradiction in two statements from Clinton on her private email. During the CNN Democratic forum Monday, Clinton insisted that it was not an error in judgment to set up the server. But earlier in September 2015, the Democratic frontrunner apologized and called her private email "a mistake."
"That to me sounded to me like an admission of an error in judgement," the editor pointed out. "Why would that not be the case?"
Clinton responded by saying that she believed her private email was a mistake "because it's caused all this uproar and commotion."
She insisted that she had released all of her work emails, and that her email arrangement was allowed. "It was mistake, because who wants to put people through all of this? I don't want to go through it, I don't want to put a lot of my friends through it. So it was a mistake."
"So it was a mistake because of the reaction?" the editor asked.
"Yes, absolutely," Clinton responded.
"Not because it would have made sense to use a work email for work purposes?" he continued.
"It makes sense – look, look – I know that this remains a subject of some interest, obviously… The facts have not changed," she responded.
"Look, I regret that this has caused so much of a diversion, which I believe is unfounded. But I will continue to answer the questions I'm asked about it."
Listen above, via Quad-City Times (starting @11:02).
[Image via screengrab]
——
>>Follow Alex Griswold (@HashtagGriswold) on Twitter
Have a tip we should know? tips@mediaite.com