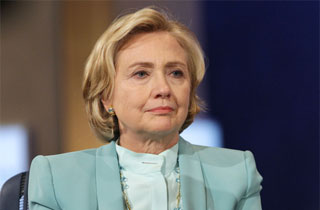 If you've ever wondered what Hillary Clinton needs in order to be the best Hillary Clinton she can be, today is your lucky day. Somehow, the Washington Post, via a very clever FOIA request, got their hands on Hillary Clinton's rider for a $300,000 speech she delivered at UCLA.
According to the documents, Clinton's representatives at the Harry Walker Agency "exerted considerable control over her appearance and managed even the smallest details," requesting, among other things, a platter of crudité and hummus, a scanner (which UCLA had to buy), and a bowl of lemon wedges backstage.
Other requests include a special chair:
Top university officials discussed at length the style and color of the executive armchairs Clinton and moderator Lynn Vavreck would sit in as they carried on a question-and-answer session, as well as the kind of pillows to be situated on each chair. Clinton's representatives requested that the chairs be outfitted with two long, rectangular pillows — and that two cushions be kept backstage in case the chair was too deep and she needed additional back support.
Clinton needs a specific type of podium:
During a walk-through of Royce Hall five days before the lecture, the e-mails show, Clinton's team rejected the podium planned for her use during her 20- to 30-minute speech, setting off a scramble on campus to find a suitable podium and rent a new university seal to match.
And Clinton absolutely refuses to let anyone place a medal around her neck:
"Chancellor [Gene] Block has agreed to accommodate Hillary Clinton's request to have the medal presented in a box," Assistant Provost Margaret Leal-Sotelo wrote in one e-mail.

[UCLA administrator Patricia] Lippert replied: "I can either have the jewelers box open or closed, in case the Chancellor doesn't want to risk opening it."
It's not exactly J-Lo's all-white green room or Van Halen's infamous brown M&Ms bowl, but a Clinton appearance is well-coordinated: it took an entire year for UCLA to plan the lecture. And her requests are pretty long — you can read them all below.
[The Washington Post]
[Image via JStone / Shutterstock.com]
—
>> Follow Tina Nguyen (@Tina_Nguyen) on Twitter
Have a tip we should know? tips@mediaite.com