Hillary Reportedly Supported Trade Deal with Colombia After Donations from Oil Exec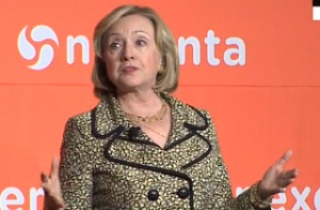 According to a new report in the International Business Times, former Secretary of State Hillary Clinton supported a trade deal with Colombia after the Bill, Hillary and Chelsea Clinton Foundation accepted a substantial donation from a Colombia oil company executive, despite that country's questionable record on human rights.
The report details human rights activists' calls for Clinton to do something about the Colombian government's crackdown on labor organizers. Despite those calls, the State Department "publicly praised Colombia's progress on human rights," which allowed for millions of dollars in U.S. aid to flow to those who were cracking down on labor activists, reports IB Times.
At the same time, the Clinton Foundation was reportedly working closely with Frank Giustra, the founder of Pacific Rubiales, the company "at the center of Colombia's labor strife." Giustra now sits on the board of the Clinton Foundation.
–RELATED: Bill Clinton Talks Reduced Campaign Role, Defends 'Transparent' Clinton Foundation
IB Times explains further:
The details of these financial dealings remain murky, but this much is clear: After millions of dollars were pledged by the oil company to the Clinton Foundation — supplemented by millions more from Giustra himself — Secretary Clinton abruptly changed her position on the controversial U.S.-Colombia trade pact. Having opposed the deal as a bad one for labor rights back when she was a presidential candidate in 2008, she now promoted it, calling it "strongly in the interests of both Colombia and the United States." The change of heart by Clinton and other Democratic leaders enabled congressional passage of a Colombia trade deal that experts say delivered big benefits to foreign investors like Giustra.
The State Department, Clinton Foundation, and Giustra did not respond to the IB Times' requests for comment.
This is the latest in a strong of problems for the former Secretary of State, as she gears up for a likely presidential run. Clinton is already facing questions about her email practices, as well as a racketeering lawsuit.
Read the full IB Times report here.
[Image via screengrab]
– –
>>Follow Andrew Desiderio (@forza_desiderio) on Twitter
Have a tip we should know? tips@mediaite.com