Hillary Was Reportedly Senate's Biggest Spender on Taxpayer-Funded Charter Flights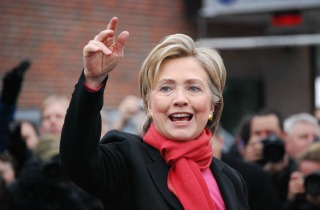 The Hillary Clinton saga isn't ending any time soon. A new USA Today report proved as much on Monday, showing the former Secretary of State used taxpayer-funded charter flights ahead of her 2006 U.S. Senate re-election campaign and her 2008 presidential bid. As a result, according to the report, Clinton quickly became the Senate's "biggest spender on reported charter airfare."
While the four other senators who ran for president in 2008, including then-Sen. Barack Obama, took only two of the taxpayer-funded charter flights, Clinton reportedly spent more than $300,000 on charters from 2004 to 2008.
As USA Today points out, charter travel is perfectly legal and lawmakers typically ramp up their travel expenses as they approach re-election. But while a Clinton spokesman insisted the travel was all done on behalf of the New Yorkers whom she represented, the report found that Clinton took 28 flights outside the state, at a total cost to taxpayers of $42,000. Senators are required to pay for travel to and from political events and fundraisers from either their personal or campaign accounts.
"By January 2005, Clinton was not only seeking re-election in 2006 but was also considered the leading Democratic candidate for president in 2008," the USA Today report noted. "However, she was the only senator eyeing a White House bid who was flying charter flights paid out of her office account."
In comparison, Obama, Sen. John McCain (R-AZ), and Sen. Chris Dodd (D-CT) did not report any taxpayer-funded charter flights from January 2005 to December 2008.
These new revelations come as House Speaker John Boehner is expected to launch an investigation this week into Clinton's email practices, which have been heavily scrutinized since The New York Times' bombshell report that Clinton exclusively used a private email address while serving as Secretary of State, an apparent violation of the law.
You can read the full USA Today report here.
[Image via Shutterstock]
— —
>>Follow Andrew Desiderio (@forza_desiderio) on Twitter
Have a tip we should know? tips@mediaite.com