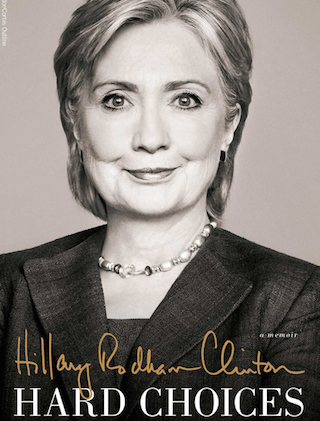 After much hype, Hillary Clinton's new book Hard Choices is officially available for purchase starting today
. It debuted at #2 on Amazon's best sellers list, behind John Green's The Fault in Our Stars
, which also happens to be the #1 movie in America right now.
But what do Amazon's commenters think of the new book (presuming they've actually had time to read it)? With 58 customer reviews, Hard Choices is currently clocking in at a measly two stars, with a total of 40 one-star reviews.
Here are some highlights from the worst of the worst:
600 boring pages of self righteous BS

The title of my comment says it all.The book could have been condensed down to about 5 pages and would have said everything the that she stretched over 600 pages…
What a boring book…

Boring. 250 pages in, still looking for the "hard" choices… I enjoy politics and was hoping to get a better understanding of her, and hopefully deduce her qualifications to be president. "Easy" choice, stop reading book. ;)
Disappointed

I was really hoping to find out who killed Vincent Foster. Oh well, maybe the next book will reveal it.
Election Propaganda

This is not a "memoir", this is 2016 election propaganda. To be fair I only made it halfway through the book, but that was because I had to stop myself from vomiting.
The 2016 Run Has Started

This book has 4 reviews at the time I'm writing this yet it is the number 2 best seller on Amazon? Who is buying these books and warehousing them to bump her numbers? Oh, herself? I wish there was a way to track the bulk buyers. There is no way this vacuous work is a number 2 best seller on any list. I'm so tired of politicians and their lies. She did very little if nothing as S of S except travel at the taxpayer's expense and spew tons of pollution into the atmosphere. And when did it become necessary to write a book before announcing your run for office? What does it matter anyway?
Hard-ly Choices

You buy the book, you will most likely vote for another failed leader. Don't do either, save your money and save the country.

Run, don't walk, RUN away from this woman!!!!
But for all those naysayers, there were some commenters who decided to fire back at the "trolls" who are openly trashing Clinton on Amazon:
A review against the trolls

Really, people? Are you all so insecure about Secretary Clinton running for the Presidency that you have to try and bash her book without even reading it?
The Book Just Came Out!

For all those giving the book one star, it definitely makes you look like you have an agenda. The book literally just came out. Unless you're really fast readers, I doubt that you finished reading the book, let alone bought it.
Bravo Hillary!!!

I'm amazed that Hillary's book came out today and the crazies already organized to give one star reviews. I'd like to be the one to tell them..YOURE SUPPOSED TO READ BOOKS!!" Go get em future Madame President!!
No surprise, it turns out Amazon it just as politically polarized as the rest of this country.
[Photo via Amazon]
— —
>> Follow Matt Wilstein (@TheMattWilstein) on Twitter
Have a tip we should know? [email protected]