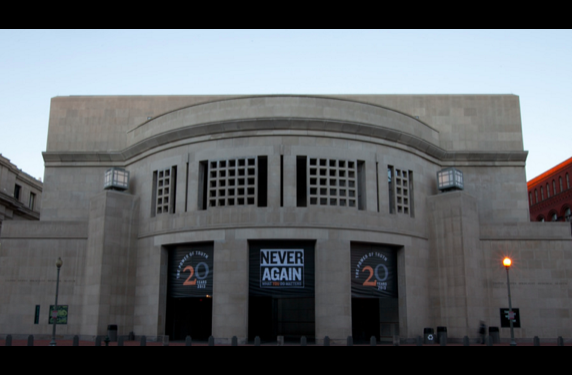 The U.S. Holocaust Memorial Museum released a rare political statement Thursday, calling on lawmakers to refrain from turning their "backs on the thousands of legitimate refugees."
"Acutely aware of the consequences to Jews who were unable to flee Nazism, the United States Holocaust Memorial Museum looks with concern upon the current refugee criss," the statement reads, calling upon "public figures and and citizens to avoid condemning today's refugees as a group."
The statement notes many of the refugees are fleeing persecution and "in some cases elimination on the basis of their identity" by the Bashar al-Assad regime in Syria and ISIS.
Cameron Hudson, director of the Simon-Skjodt Center for the Prevention of Genocide at the Holocaust Museum, told Bloomberg that refugees who are fleeing crisis "are looking to the U.S. to be the shining city on the hill."
"You look at the United States in the 1920s and '30s, we built high walls, we stopped legal immigration. We're not quite at that point yet, but there's a growing backlash," Hudson said, adding that moderate voices "seem to be getting drowned out by people who are taking these very hard national security positions."
Though the Holocaust Museum typically refrains from taking a stance on policies, Hudson said they released the statement because "as an institution we have a mandate to be the voice that the Jews of the 1930s did not have."
"Nobody can reasonably argue that the response from the international community has been enough," Hudson said.
In addition to the statement, the Holocaust Museum Twitter account has been posting a series of vines with the hashtag #WithSyria.
Listen to #Syrian survivor Qutaiba I.'s heartfelt plea about the plight of the Syrian people. #SyrianRefugeeshttps://t.co/EM8CbGsSn7

— US Holocaust Museum (@HolocaustMuseum) November 17, 2015
"At the end of #WWII … I believed such an atrocity could never happen again,"- Survivor, Marrgit M. https://t.co/ZZ0waYmQ3n

— US Holocaust Museum (@HolocaustMuseum) November 20, 2015
[Image via Wikimedia Commons]
—
>> Follow Elizabeth Preza on Twitter (@lizacisms)
Have a tip we should know? tips@mediaite.com