House Passes Cybersecurity Law, GOP Rep Invokes Boston Bombing To Push For Passage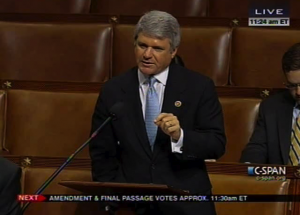 In the midst of all the chaos this week, not to mention significant gun control legislation coming to a head yesterday, one particularly important story has gone largely under the radar. The House of Representatives today voted overwhelmingly in favor of the Cyber Intelligence Sharing and Protect Act, a controversial cybersecurity law which would encourage private businesses (i.e. Facebook) to share information about potential cyber threats with the U.S. government. Advocates argued it's important to bolster America's cyber defenses, opponents warned it would be too big of a privacy invasion, and one member of Congress actually invoked the Boston bombings early today to push for its passage.
RELATED: SOPA Part II Or Not? Congress Taking Up Controversial New Cybersecurity Bill
The White House has made its concerns clear over the lack of privacy protections in the law, and on Tuesday threatened to veto the legislation. One amendment proposed today by Democrat Alan Grayson would have required police to obtain a warrant before searching any online databases, but it was rejected by the House.
Republican congressman Mike Rogers, the bill's author, claimed that no companies oppose the law (a false assumption) and dismissed any opposition as coming from "14 year-old tweeter[s] in the basement." His Democratic colleague Dutch Ruppersberger said yesterday that CISPA needs to be passed in order to stem the tide of companies stealing American trade secrets. As he succinctly put it, "If your house is being robbed, you call 911 and the police department comes. That's the same scenario we are looking at here."
But perhaps the most eyebrow-raising comments of all came from Texas Republican Mike McCaul, who invoked the Boston bombings on the House floor this morning to argue why passing the bill was so important.
"What recent events in Boston demonstrate is that we have to come together, as Republicans and Democrats, to get this done in the name of national security. And this case in Boston, they were real bombs, explosive devices–in this case, they're digital bombs. And these digital bombs are on their way."
Watch the video of McCaul's remarks below, courtesy of CSPAN:
—–
Follow Josh Feldman on Twitter: @feldmaniac
Have a tip we should know? tips@mediaite.com
Josh Feldman - Senior Editor