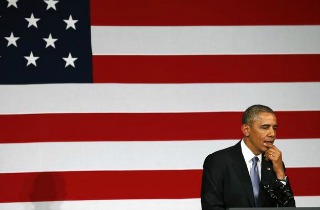 The scandal surrounding the Department of Veterans Affairs has stirred bipartisan outrage, as it should. In separate facilities, unauthorized wait lists were complied which hid the true delays for American military veterans to receive medical attention. Several died while waiting for care and, while the hospitals in question contend that it is not definitive that those veterans who did not receive care would have lived if they had they been treated sooner, many more veteran fatalities are being investigated.
The treatment of American veterans is scandalous, and it is being treated like a scandal. At least, everyone except the White House is treating it like a scandal.
On Friday, the VA announced that Dr. Robert Petzel, the undersecretary for health, is resigning from his post. There's just one problem: his resignation was effectively submitted in September 2013, when the department announced that he planed to retire sometime this year.
"Petzel was already scheduled to retire in 2014 and President Obama has already announced his intention to nominate Petzel's replacement, so characterizing this as a 'resignation' just doesn't pass the smell test," read a statement from House Veterans Affairs Committee Chairman Rep. Jeff Miller (R-FL).
If this seems like a flippant dismissal of the gravity of this controversy, it should. It should also sound familiar. The White House flippantly dismissed another serious scandal in this same manner last year.
On May 16, 2013, at the height of the revelations surrounding the IRS's singling out conservative groups for undue scrutiny and limiting their ability to participate in the 2012 election cycle, the White House responded in the precise same fashion.
Billed as an example of the executive branch taking decisive action, they announced that acting IRS Commissioner Steven Miller would resign his post. He, too, was already planning on stepping down.
One source close to Miller told Fox News that he was resigning his post the following month "regardless of the current controversy." But a scalp had been claimed and some time had been purchased in order to create distance between high-ranking White House officials and the epicenter of scandal.
It's a familiar pattern, one which the press should not accept.
[Image via Kevin Lamarque / Reuters]
— —
>> Follow Noah Rothman (@NoahCRothman) on Twitter
Have a tip we should know? tips@mediaite.com