How to Watch the Clemson-Alabama National Championship Game Live Streaming Online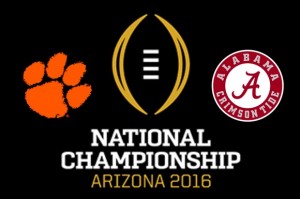 On Monday night, the college football championship between Clemson and Alabama will be played on ESPN at 8:30 p.m. ET in one of the most highly-anticipated games in recent memory.
After a disappointing showing of low-rated games over New Year's Eve, ESPN's primetime coverage Monday is expected to break viewership records. The Alabama Crimson Tide is ranked #2 in the country with a 13-1 record (they only lost to Ole Miss earlier in the season) and the undefeated Clemson Tigers are #1 with a perfect 14-0 record heading into tonight's contest.
The national championship will be played at the University of Phoenix Stadium in Glendale, Arizona, and television coverage will be available on ESPN. Viewers can also livestream the game using the WatchESPN app. ESPN's Chris Fowler and Kirk Herbstreit will be calling play-by-play and color commentary for the game, and Heather Cox and Tom Rinaldi will offer sideline updates throughout the night.
Alabama head coach Nick Saban is leading his Crimson Tide onto the field to compete for their fourth title in the past seven years; the last time that Clemson won the title came in 1981. The main battle on the ground features Alabama's running back Derrick Henry, who amassed 2,061 years this season on top of 25 touchdowns. Clemson quarterback Deshaun Watson has thrown 3,699 yards in the 2015 outing, throwing for 21 touchdowns and 12 interceptions. Henry won this year's Heisman Trophy, presented annually to the best player in college football, while Watson finished second in the voting for the distinction.
Crimson Tide radio will also carry the broadcast, as will CTSN radio affiliates for Clemson. Sirius XM Channel 80 will also offer the national call of the game, in addition to ESPN radio with Todd Blackledge and Monday Night Football's Mike Tirico. Alabama is favored in the contest by a 7 point spread.
Have a tip we should know? tips@mediaite.com