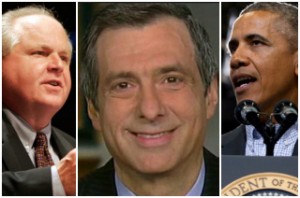 Following his departure from CNN, Howard Kurtz isn't just appearing on Fox News' air, he's also writing columns for the network's website. And in his "Media Buzz" roundup Monday, he issues some harsh criticism to President Obama for his most recent invocation of Rush Limbaugh as the force that stands between Republicans and compromise. Kurtz wrote that in using the radio host's name to make his point, he "elevated Limbaugh to his level."
The president's comments came during an exclusive interview with CNN's Chris Cuomo Friday. Speaking about Republican threats to shut down the government over their objection to the Affordable Care Act, Obama said, "I've made this argument to my Republican friends privately, and, by the way, sometimes they say to me privately, 'I agree with you, but I'm worried about a primary from, you know, somebody in the tea party back in my district' or, 'I'm worried about what Rush Limbaugh is going to say about me on radio.'"
"President Obama blamed some of his problems on Rush Limbaugh the other day," Kurtz writes. "And that may not be a brilliant strategy." After reviewing what Obama said, Kurtz asks, "Really? A guy with a microphone is preventing the president of the United States from getting his way on Capitol Hill? Is Rush that powerful?"
He goes on to call Limbaugh "the nation's most powerful radio broadcaster" and "an unquestioned force on the right." But he makes the point that Limbaugh merely represents a certain type of conservative and doesn't carry quite the power Obama has bestowed upon him. "Obama was indulging in a bit of shorthand by saying his problem is El Rushbo—and in the process elevated Limbaugh to his level," Kurtz writes.
Kurtz explains how Obama's comments gave Limbaugh the opportunity to inflate his own importance even further. "I am the reason he can't move his agenda forward," Limbaugh told his listeners after Obama's interview. "which of course is silly because he's getting everything he wants. He blamed me again. I mean, it's like a broken record."
According to Kurtz, Limbaugh turned Obama's comments into a "victory lap" for his renewed contract with Cumulus Media. "No president should lose sight of the fact that he has the biggest megaphone of all," he concludes.
Watch Obama make his comments about Limbaugh below, via CNN:
[photo via Fox News]
—
>> Follow Matt Wilstein (@TheMattWilstein) on Twitter
Have a tip we should know? tips@mediaite.com