Howard Kurtz Trashes The Press for Frustration Over Access To Vacationing Obama: 'Give The Guy A Break'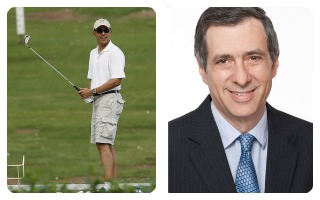 Members of the White House press corps have been openly critical of President Barack Obama's decision to restrict the media's access to him while he is vacationing in Florida. The president is taking some time off to partake in some golfing lessons from Tiger Woods while in the Sunshine State – the media has been permitted "absolutely no access" to the president. Media critic and columnist for The Daily Beast, Howard Kurtz, dismissed the press corps' frustrations on Monday saying that the media should "give the guy a break."

RELATED: White House Press Corps Expresses 'Extreme Frustration' With 'Absolutely No Access' To Obama During Vacation
"The grumbling reporters went public on Sunday evening," Kurtz wrote.
He quoted Fox News Channel's Chief White House correspondent and current president of the White House Correspondents Association, Ed Henry, who released a statement in which he lamented Obama's decision to eschew transparency on his trip to Florida.
Kurtz conceded that he understands the press' frustration with being shut out by the president – notably stating that it costs media outlets significant amounts of money to ship their reporters around the world to cover the president every minute of the day just to get shut out. However, Kurtz noted that, when the president is making no news, he is entitled to privacy.
"Why accompany the president on vacation?" Kurtz asked. "The real reason is the body watch—in case anything happens to him, major news outlets want their person nearby. If a crisis erupts, the president might go to the microphones."
"But sometimes, like this weekend, he's just playing with Tiger," added Kurtz.
Still, while the press corps merely wants to be able to do its job, I have to say:

The president's on vacation.

He's entitled to a few days off.

He's not making any news.

It's not him, it's you.
"Give the guy a break," Kurtz wrote. "You'll see more of him soon enough. Or at least your designated poolers will during the next photo op."
> >Follow Noah Rothman (@NoahCRothman) on Twitter
Have a tip we should know? tips@mediaite.com