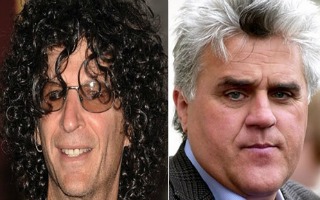 Sirius XM radio host and panel judge on NBC's America's Got Talent, Howard Stern, slammed Tonight Show host Jay Leno and NBC for releasing some staffers after the late night talk show's budget was cut. Stern went after his network in the harshest of terms and, while he claims he was reprimanded by NBC, he says he will not scale back the tone of his criticisms.

After news of the Tonight Show budget cuts broke, which press accounts claim forced Leno to take a pay cut as well as to cut some staffers, Stern took to his radio program to say that he did not believe the official company line in the harshest terms.
"It's all horse shit. It's bullshit. It's a smokescreen … Here's what it really means, and you can take this to the bank: Jay Leno is a scumbag. That's what that means. He's a spineless maggot. Jay wanted to cut staff. He's embarrassed to do it. He didn't want to come off as a bad guy. NBC took the hit for him, because they're a corporation … My bullshit meter is going off all over the place."
Following that exposition, Stern says that he was contacted by his NBC employers who told him that he was no longer to talk about Leno.
"Yeah, I did hear from them actually. I got sort of a threatening kind of comment from one of the executives. I said … 'Do not tell me not to talk about Jay Leno, I will talk about Jay Leno for four fucking hours if you tell me not to.' I was done with Jay Leno, now I'm all fired up again. Fuck Jay. Take my job away from me. Who cares?"
Stern said that he has no intention of backing down from his criticisms of Leno.
Listen to the audio below via The Howard Stern Show:
h/t Huffington Post
> >Follow Noah Rothman (@Noah_C_Rothman) on Twitter
Have a tip we should know? tips@mediaite.com