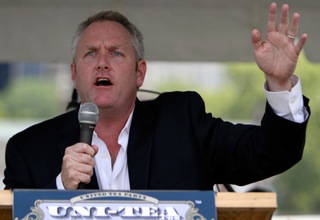 Looks like the golden era of bipartisanship at the Huffington Post has ended, no more than two weeks after it started. The publication turned many heads after agreeing to publish a post by conservative rabble-rouser Andrew Breitbart on the recent NPR/James O'Keefe kerfuffle, initially standing by the editorial decision. In light of Breitbart's recent comments on Van Jones, however, HuffPo spokesman Mario Ruiz announced today they would no longer promote him.
The pressure began to mount on the Huffington Post nearly immediately after their decision, although, as Breitbart himself noted, the comments from viewers appeared to be as civil as they were outraged. The Van Jones-founded Color of Change organization rapidly responded with a petition to have Breitbart removed from the site, to which HuffPo's Ruiz responded with a statement noting that Breitbart was not the first conservative on the site and that they would continue to promote him:
From the beginning, The Huffington Post has welcomed voices from all sides of the political spectrum, including conservatives such as Newt Gingrich, Frank Luntz, Tom Coburn, Laura Ingraham, Bob Barr, George Pataki, David Frum, Byron York, Mary Matalin, and Ken Blackwell. The idea being that dialogue — from a wide range of perspectives — is preferable to silence. The fact that Andrew Breitbart's first post on our site drew over 1,635 comments, conducted in a civil manner, seems to validate the premise and the decision to publish his blog post.
While the Huffington Post continued to defend their new contributor, Breitbart put on the war paint and went after Color of Change in an interview with the Daily Caller, calling the organization a bunch of "freaks" and Jones himself a "commie punk." This, apparently, was a turning point for the publication, which released a second statement today, partially retracting the first:
Andrew Breitbart's ad hominem attack on Van Jones in The Daily Caller — right down to calling him a "commie punk" and "a cop killer-supporting, racist, demagogic freak" — violates the tenets of debate and civil discourse we have strived for since the day we launched. As a result, we will no longer feature his posts on the front page. He is welcome to continue publishing his work on HuffPost provided it adheres to our editorial guidelines, as the two posts he published on HuffPost did — guidelines that include a strict prohibition on ad hominem attacks.
In response, Color of Change has mostly ended its campaign, releasing this public statement:
ColorOfChange.org applauds The Huffington Post's decision to no longer give Andrew Breitbart a prominent platform for his so-called 'journalism'. Breitbart, whose entire career is built upon 'reporting' lies and falsehoods disguised as news, should have never been given the opportunity to present himself as a legitimate journalist or opinion-maker. Their decision is an important reversal. Over the course of one day, over 43,000 of our members called on The Huffington Post to end to their promotion of Breitbart. The Huffington Post has done the right thing by refusing to elevate someone who fear mongers, race-baits and lies – none of which have a place in America's public discourse.
Naturally, Breitbart is not happy– his Twitter feed a minefield of retweets about the scandal, with his own short and sweet take on it: "Check my Twitter feed: Toldja the organized left are totalitarian anti-free speech freaks. Van*glorious & van*quished Jones leading charge!" Meanwhile, on Big Journalism, Dana Loesch wasted no time in decrying "Marxist bullying" on Jones' part. But it's not just the Breitbart empire and the conservatives who love it that find the entire affair leaving them with a bitter taste in their mouths: Salon's Alex Pareene argues that cronyism— and not ethics– is behind the 180º turn, while still managing to call Breitbart "a crusading propagandist who publishes a wide variety of untruths and smears" and "a shameless, race-baiting bully":
Breitbart then apparently went too far when he said a bunch of stupid and offensive things about Van Jones in an interview with the Daily Caller. And Arianna is actually quite close to the former White House "green jobs czar." […]

A strict prohibition on ad hominem attacks! ("Against Arianna's friends," is the big of that sentence that spokesman Marco Ruiz left out.) (Also there is apparently no prohibition on constant, practically obsessive race-baiting, but whatever.) (And obviously there is no prohibition whatsoever on spreading toxic bullshit about autism and other assorted crimes against science.)
Pareene ends his assessment of the entire "stupid" ordeal suggesting that this is only good news for Breitbart, as it promotes a narrative of censorship on the left he persistently promotes. It does both silence Breitbart to an audience he has little exposure to and promote his profile to the people who regularly read him, so the score is as yet unsettled, and we'll have to wait for more than a tweet or two to hear what Breitbart intends to do about it.
Have a tip we should know? tips@mediaite.com