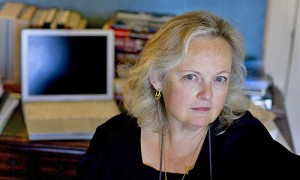 After a very public and somewhat controversial exit from HuffPo, Mayhill Fowler has published an article titled "Why I Left The Huffington Post" on her personal blog. The citizen journalist's post primarily revolves around one complaint: "I want to be paid for my time and effort."
The self-proclaimed clueless journalist started contributing to HuffPo in 2007 without pay, as is the norm at a vast number of new media sites. However, as is also the case at many digital publications, she continued to work without considerable compensation, a fact that has prompted Fowler to brand her resignation as "Bittergate."
In her post, she: claims that her work for the online publication was "often as good as anything HuffPost's paid reporters" produce, publishes a presumably private e-mail exchange with HuffPo editor Roy Sekoff (on which Arianna Huffington was CC'd), and offers some caustic commentary on Howard Fineman, who is leaving Newsweek for HuffPo, where he will undoubtedly be paid more than most of the site's "6,000 opionators." Said Fowler:
The Huffington Post just took on Howard Fineman, a fine political pundit and maybe one of the last to leave the sinking ship Newsweek. I predict he will stay about a year. Maybe two. He doesn't want Newsweek to be the last thing on his resume. He needs some "street cred" in new media. Then he will go on to a university lectureship (Princeton, perhaps) or a think tank or a foundation in order to round out a prestigious career. Likely both Fineman and Huffington are under no illusions about the hire. But here's the thing from my point of view. So Fineman is getting a six-figure salary. Deserved. But why is there not a quarter of that for me?
Fowler's tenure at HuffPo has been eventful in itself; she was considered a driving force of the publication's earlier years, during which her political coverage garnered attention in traditional media outlets like the New York Times — something of a feat in the pre-iPad age. [Interestingly, Fowler's end of her published conversation with Sekoff was conducted from both an iPad and an iPhone.]
On her way out, Fowler still seems committed to grabbing the national media's attention. Consider the final words of her lengthy diatribe: "Maybe I'm worth a tenth of Howard Fineman?"
Alas for Fowler, the HuffPost's answer appears to be a resounding no.
Have a tip we should know? tips@mediaite.com