HuffPost Writer Compares Her Routine Traffic Stop to Sandra Bland's Violent Confrontation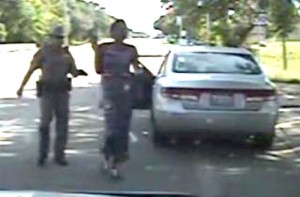 American and New Zealand readers are up in arms about a Huffington Post article comparing Sandra Bland's violent and confrontational traffic stop to writer Janis Powers's having to take a breathalyzer while visiting the island country in the southwestern Pacific.
There are two main points of contention with the July 24 article in HuffPost's crime section, the first being that Bland was arrested and later died in prison after committing suicide. Whereas Powers, a healthcare and political writer whose article "He Gave Me a Breathalyzer Test That I Couldn't Refuse" recounts her being forced to take a breathalyzer, is alive and kicking. Plus, the breathalyzer was legally administered under New Zealand law, she wasn't arrested, and she's white. And she was on vacation.
The second problem, as the New Zealand Herald points out, is that Powers revised her article soon after Bland's story broke so as to capitalize on the traffic. This happens in new media all that time, but Powers went a step further and wrote about the changes on her personal blog:
If you've been following Provocative Perspectives, you'd know that I thought it would be a fantastic idea to eschew The Huffington Post and put everything that I wrote on MY website. So my last post, "He Gave Me a Breathalyzer Test That I Couldn't Refuse," went straight to Provocative Perspectives. I saw the traffic it got. Uh…decent. But I was a little disappointed that I hadn't put it out there for the world to read. Perhaps, if it had been on the HuffPo, it would have had a broader audience.

And then the Sandra Bland incident happened. Less than a week after the 4th of July, right after I posted my story, the violation of a woman's civil rights came into question when she was pulled over for a traffic violation. An awful outcome. My story about the breathalyzer incident in New Zealand is different, but the issue at hand is the same. So I re-wrote my story and…posted it to the HuffPo. Check out the newly revised "He Gave Me a Breathalyzer Test that I Couldn't Refuse" which is now on The Huffington Post in the Crime section.
Bland goes on to boast that this is the eleventh HuffPost section one of her articles has made it into. Meanwhile, she rather abruptly overlooks the fact that she equated her own, perfectly legal and uneventful traffic stop with Sandra Bland's, saying "the issue at hand is the same."
The "issue" Powers here refers to is the limitations (or lack thereof) in law enforcement. She was taken aback by New Zealand's alternative law enforcement approach to preventing drunk drivers from speeding recklessly along its roadways. Much of "He Gave Me a Breathalyzer Test That I Couldn't Refuse" boils down to a comparison between what Powers experienced while driving abroad, and the slightly different tactics administered here in the United States. Basically, she's complaining:
As a visitor in any foreign country, I never expect my rights as an American to supersede those of the nation where I am traveling. But things just didn't seem right when I was given a mandatory road-side breathalyzer test, just because I was speeding.
Yet her premise here revokes the complaint's validity. That is, Powers's "rights as an American" don't "supersede those of the nation" she's visiting, but she still feels the need to whine about being "given a mandatory road-side breathalyzer test." And since she's already an established blogger for HuffPost (11 times strong!), she is able to take her whining to a much larger audience. Sandra Bland, on the other hand, didn't attain an audience until after she was found dead in her jail cell.
Both the opportunistic use of Bland's death and Powers's seemingly pushy American attitude have understandably set readers off. After all, the author was more than willing to revise the article to fit the news and tweet about doing it: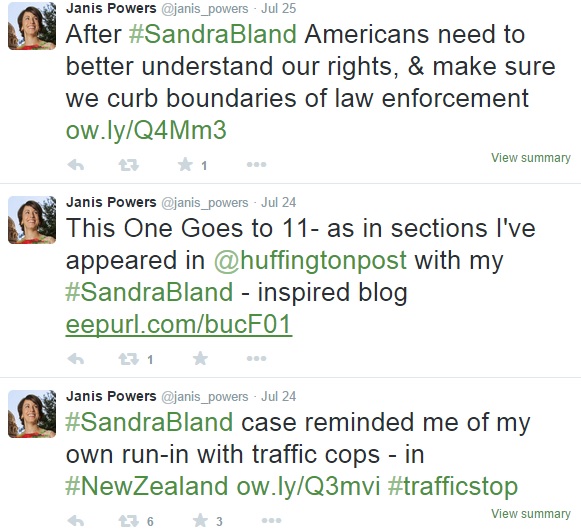 So readers naturally took to Twitter to express their own frustrations with Powers's article and its implications:
@janis_powers Using the death of Sandra Bland as a vehicle to complain about a routine process in a foreign country seems in poor taste.

— Evan eht Nioj (@WritWord) July 27, 2015
@janis_powers Genuinely horrendous of you to compare your law-breaking and arrogance with the horrific death of #SandraBland. No respect.

— Sophie Maher (@sophiejeanmaher) July 28, 2015
HuffPowriter gets breathalysed in Timaru AND COMPARES HERSELF TO SANDRA BLAND. Yes capslockshouty because REALLY. http://t.co/RYxGbDRRtw

— Jessica Williams (@mizjwilliams) July 28, 2015
Huffington Post writer Janis Powers compares breathalyser test by NZ police to Sandra Bland case http://t.co/ICmuoJcESS

— Sadly, not The Onion (@theon1on) July 28, 2015
@janis_powers I once ordered a Big Mac @ McDs & opened my bag 2 find a McChicken, which is exactly like that time Hitler committed genocide.

— Toastface Grillah (@Thecronge) July 28, 2015
[h/t New Zealand Herald, Huffington Post]
[Image via screengrab]
— —
>> Follow Andrew Husband (@AndrewHusband) on Twitter
Have a tip we should know? tips@mediaite.com