Hugh Hewitt Previews Debate for Mediaite, Vows No 'Gotcha' Questions for Trump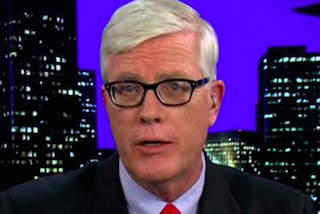 One of the toughest moments of the 2016 campaign for Donald Trump so far came when radio host Hugh Hewitt asked him some basic foreign policy questions and the GOP frontrunner was more or less unable to answer any of them. That's what makes it all the more interesting that Hewitt is among the official questioners at tonight's Republican primary debate on CNN.
Mediaite caught up with Hewitt shortly before the start of CNN's early debate to ask him what he has in store for Trump — and the rest of the candidates — tonight.
Hewitt said he has a "game plan" but that he expects it to "go out the door" once the reality of the debate situation sets in. "They're all primed," he said of the candidates. "I think many of them feel a lot of pressure to be more significant than they were in the first debate."
While Fox's debate was "touch gloves," Hewitt has taken to likening tonight's event to the "Red Wedding" from Game of Thrones. "Anything could happen and the whole thing could go crazy."
Hewitt would not make any predictions about who would "win" the night, but he said he expects impressive stuff from Governor Chris Christie and John Kasich, who are both "very skilled" in this type of arena.
After Hewitt's touchy radio interview with Trump, the candidate started throwing accusations of "gotcha" journalism and referred to him as a "third-rate radio announcer." Could they get into it again tonight? And what, if anything, could Trump say or do that would actually hurt his poll numbers?
Hewitt said Trump actually got a lot of "sympathy" for apparently mishearing "Quds" as "Kurds." But during their interview, Trump also argued that he didn't need to know the difference between Hamas and Hezbollah, a distinction Hewitt clearly believes is important for the next president of the United States.
"I think he plays a different game that anyone else," Hewitt said of Trump. The question is "does it wear well?" As for tonight, he said, "I don't expect him to be anything but Donald Trump. He really hasn't been bested in any exchanges."
"A gotcha isn't a gotcha unless it gets ya," Hewitt remarked. "It didn't get him, right?"
In other words, you can "catch" Trump not knowing something, but all he has to do is spin it the right way and, as we have now seen again and again, the people who love him can't get enough.
[Photo via screengrab]
— —
>> Follow Matt Wilstein (@TheMattWilstein) on Twitter
Have a tip we should know? [email protected]