I Got The Horse Right Here! "My Wife Knows Everything" Beats "My Wife Doesn't Know" In Hilariously-Called Horserace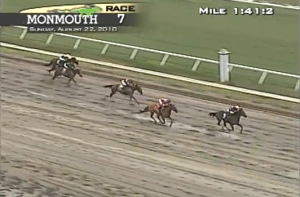 This is fabulous. Monmouth Park racetrack announcer Larry Collmus is a real pro — no matter what the horses are named. In this hilarious race, those horses include a horse called "My Wife Knows Everything" and one called "My Wife Doesn't Know." The full clip below shows the entire race, with the two horses battling it out around the track until they pull ahead in a dead-head battle for supremacy in an argument as old as The Honeymooners. If you were born in the 80s and don't get that, look it up. It's hilarious to hear Collmus' voice rise in pitch as he excitedly calls the race — never missing a beat.
By the way, this clip has run regularly today on MSNBC for the last four hours at least — yet after looking on MSNBC.com for the clip I came up empty. A search on their site for "My Wife Knows Everything" took me outside the site to this blog where I found the clip on YouTube — as well as to CBSNews.com. Watch the full race below — and below that enjoy some other horserace-themed clips. Did I post this story as an excuse to link to Guys & Dolls? You'll never know.


Guys & Dolls: Fugue For Tinhorns
The classic horserace song. You know it, even if you didn't know you knew a song called "Fugue for Tinhorns."


MTV's The State: Porcupine Racetrack
This is one of the more genius sketches ever done by The State, one of the more underrated sketch groups in recent memory. It's sort of a mash-up between Guys & Dolls and Starlight Express.

A Capella Version on YouTube: Porcupine Racetrack
The bright-faced college students clearly know about Porcupine Racetrack, and give it the a capella OKGo treatment. Inspired.
Have a tip we should know? tips@mediaite.com