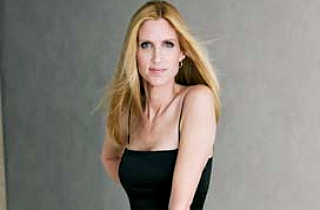 Firebrand conservative columnist Ann Coulter is probably one of the last people you'd expect to host a Reddit AMA (Ask Me Anything) session. But in the midst of a tour promoting her latest book, she came through with one on Monday afternoon.
For those who've read our interview with her, you'll already be familiar with the more substantive answers she gave the Reddit community in regards to her book topics, the future of the GOP, and the media. But below are some of the funnier highlights from moments in which Coulter and/or her audience attempted to troll one another.
At the beginning of the session, Coulter took on a pair of adversarial questions: One asking whether she viewed black people as "sub-human" based on a sarcastic line from a recent column; the other calling her out for "purposefully insulting people":

Coulter's response? She trolled the questioner by copying and pasting their question with a twist:

Another questioner asked her point-blank why she opposes gay marriage. Coulter's terse response:

Coulter also took to poking fun at a Reddit user who was getting impatient with her slow start time:

Her trademark sarcasm was on display when another user asked her why she'd bother engaging the Reddit community after having once written that "political debate is impossible with liberals":

One Reddit user asked Coulter whether she believes in the separation of church and state — Gee, wonder what the answer will be — but the conservative commentator charged back with a suggestion that her questioner has yet to actually read the Constitution:

When asked how she's managed to keep her private life "so private," Coulter responded that she's kept details tight by "never talking about myself," adding, "Almost everything printed about my private life, e.g. my dating partners, is false. Though it is true that usually I sleep until noon."
In response to a similar question about whether she's ever dated someone of the opposite ideological perspective, Coulter joked: "Yes, but I couldn't take the dinky little hybrid cars."
Another questioner asked: "Global warming. Go." He likely expected some sort of treatise on why Coulter says the science is not out on it and that government should not spend resources trying to prevent something she does not believe exists. Instead, her smirk-laden response:

Read the rest of the AMA here.
— —
>> Follow Andrew Kirell (@AndrewKirell) on Twitter
Have a tip we should know? tips@mediaite.com