'Idiot' Chris Wallace And 'Bigoted' GOP Radio Host Explode In Debate Over Gay Boy Scouts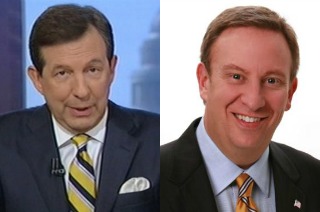 A relatively civil debate between Fox News Sunday host Chris Wallace and conservative radio host Mike Gallagher over gay youth being allowed to join the Boy Scouts rapidly devolved as the two butted heads over whether the decision would result in sexual contact between gay Scouts. After a tense exchange in which the pair resorted to ad hominem attacks, the conversation became friendly again as Wallace conceded he was "conflicted" over the issue.

Gallagher said that it made no sense to allow gay young men to camp together just as it would not make sense to allow young men and women to do the same. He argued that young people are not able to contain their sexual urges and close quartering in the Scouts provides ample opportunity for gay scouts to engage in sexual behavior.
"I think the world is changing," Wallace countered. "I don't know, was there ever a racial — and I don't know the answer to this — discrimination between whites and blacks in the Boy Scouts? There have been for instance in marrying. So then I say to myself, 'Well, you know there was time when people wouldn't have accepted blacks and whites marrying and now we think of that as completely bigoted and benighted.'"
RELATED: R.I.P. BSA: 6 Typically Over-The-Top Christian Conservative Reactions To Boy Scouts Allowing Gay Kids
The conversation became heated when Gallagher dismissed Wallace's equivalency. "You're an idiot. You're totally an idiot," he said.
"You're so bigoted," Wallace shot back.
"Oh, I'm bigoted? I'm the least homophobic guy on the radio. This is not anti-gay. And I understand people want inclusion. I don't like discrimination," argued Gallagher. "But, my gosh, the scouts are going to get destroyed by this."
After Wallace again brushed off Gallagher's concerns, the conservative host fired off one last parting shot. "You sound like you're vying for a job over at MSNBC, I swear," he declared.
Listen to the clip below via The Mike Gallagher Show:
h/t The Daily Caller
> >Follow Noah Rothman (@NoahCRothman) on Twitter
Have a tip we should know? tips@mediaite.com