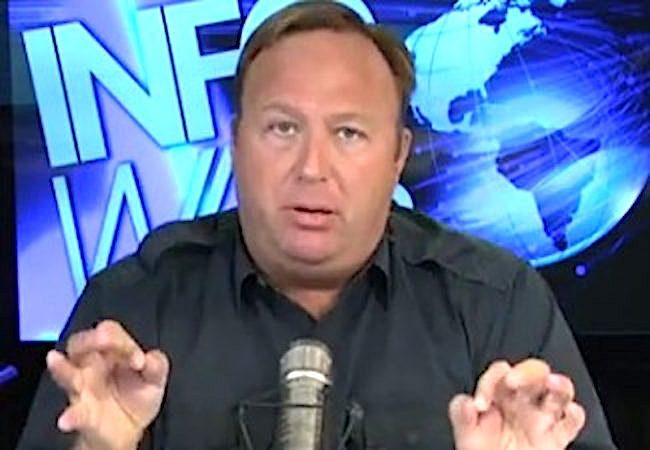 Alex Jones may be getting Gawkered.
The conspiracy-minded radio host is now being sued by Chobani. The deep pocketed yoghurt empire is taking issue with claims Jones made, falsely linking the company to Tuberculosis and child rape.
The suit cites an April 11 Tweet and related video from Jones, saying "Idaho Yogurt Maker Caught Importing Migrant Rapists," as containing multiple false statements about the yoghurt company, the Washington Post reported.
Idaho Yogurt Maker Caught Importing Migrant Rapists
– https://t.co/Jvatzl8fqD #MigrantCrisis #border #usa

— InfowarsNews (@PrisonPlanetTV) April 11, 2017
Per the post:
The lawsuit, filed Monday in Idaho state court, says Jones's Infowars website defamed Chobani and owner Hamdi Ulukaya in a series of reports alleging the company's practice of hiring refugees had brought crime and disease to the town of 45,000.
"(Jones) is no stranger to spurious statements. He has claimed that the U.S. government orchestrated the 9/11 attacks and the mass shooting at Sandy Hook Elementary School in Connecticut," write Chobani's attorneys, the Associated Press reported. "Mr. Jones has now taken aim at Chobani and the Twin Falls community."
So far it seems Jones is digging in.
Jones published a response to the allegation on YouTube late Monday night, linking the lawsuit to George Soros. "I'm not backing down, I'm never giving up, I love this," said Jones, "They have jumped the trillion-pound great white shark on this baby."
Jones is no stranger to legal action. After being served notice from lawyers representing Comet Ping Pong, the restaurant at the center of Pizzagate, Jones apologized on-air to owner James Alefantis for promoting the false story that a child sex ring was operating out of the basement of his establishment.
[image via screengrab]
Have a tip we should know? tips@mediaite.com