#ImWithKap Trends on Twitter as Hundreds Gather Outside NFL Headquarters in Support of Kaepernick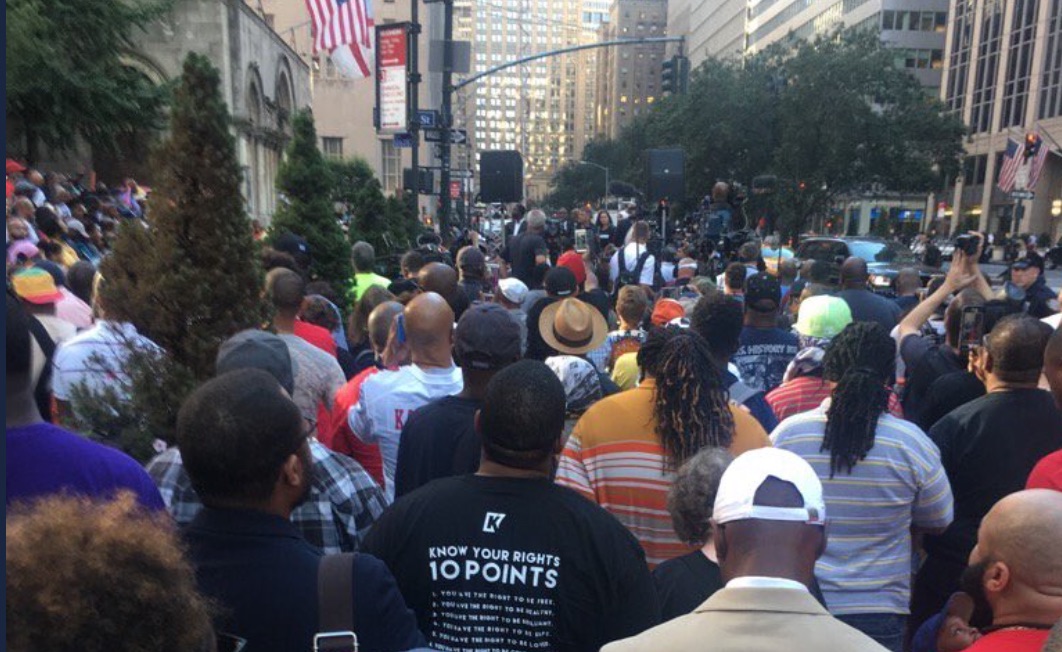 Hundreds of protestors gathered outside of NFL headquarters in New York City in support of Colin Kaepernick, who many believe is being blackballed by the league for his widely-publicized protest last year.
Kaepernick became a household name after he began taking a knee during the National Anthem before the game in protest of police brutality. The reaction was divided between supporters who applaud the quarterback's peaceful protest and dissenters who believe he was disrespecting the country.
The hashtag #ImWithKap began trending on Twitter while protests at NFL headquarters were underway.
#ImWithKap because
White
Supremacy
Is
Not
Patriotism

— Tariq Nasheed (@tariqnasheed) August 23, 2017
Blacklisting Kaepernick is completely un-American and proves why his protest is necessary. #ImWithKap

— Eugene Gu, MD (@eugenegu) August 23, 2017
Rally in support of Colin Kaepernick in front of @NFL. Together we win. I stand with Colin. #ImWithKap pic.twitter.com/lRCa1UWpa7

— Susan Sarandon (@SusanSarandon) August 23, 2017
Loving the signs today. #ImWithKap pic.twitter.com/VcISerHBEr

— Travon Free (@Travon) August 23, 2017
⚡️ "White People Do Not Own Patriotism" by @cmclymer #ImWithKap https://t.co/ZWXbvs62tR

— Charles Clymer?️‍? (@cmclymer) August 23, 2017
But take a look at some of the young women who are out there today saying #ImWithKap. They're from @girlsclubny. pic.twitter.com/5kcTSwLdBr

— Anil Dash (@anildash) August 23, 2017
Views from the #ImWithKap rally. pic.twitter.com/mYEYb8lLVu

— Ja'han Jones (@_Jahan) August 23, 2017
If people rallying to support a man who protested injustice upsets you, but the injustice doesn't, you are part of the problem #ImWithKap pic.twitter.com/Q9eaFlj1kJ

— Francis Maxwell (@francismmaxwell) August 23, 2017
Have a tip we should know? tips@mediaite.com