In 1993, Rick Santorum Said It Was 'Wrong' For Government Not To Be 'Proactive' About Health Care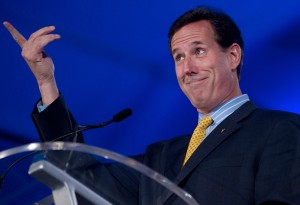 Anyone vaguely familiar with Rick Santorum will know that one of his main criticisms of Mitt Romney has been about health care. Romney's health care plan in Massachusetts has drawn ire from his opponents — and Santorum, the self-proclaimed "consistent" conservative, has regularly attacked Romney for providing the blueprint for "Obamacare." And for being a flip-flopper. Well, according to a Mother Jones report, Santorum hasn't always been so consistently conservative about health care reform.
Back in 1993 (when Hillary Clinton was tackling the health care issue), Santorum appeared on The Editors, a television program in Pittsburgh. During that interview, Santorum, who was running in a Republican Senate primary, observed that government intervention is necessary in the health care system. Relying on market forces, he said, is not enough. From Mother Jones:
On health care, as he called for more government involvement, Santorum said Republicans had "dropped the ball" by not making health care reform a headline issue in recent elections. "I even said it to President Bush when he came to Pittsburgh to campaign for Dick Thornburgh [then running for US Senate] in 1991, that health care was gonna be the big issue and that we had to take responsibility for trying to solve this problem," Santorum said. "We can't continue to ignore it and say, 'Oh well, you know, it will work itself out in the marketplace.' That's wrong."
Santorum said he took a "much more proactive position in government in solving problems than most Republicans, because I believe government has a role. A lot of folks believe, 'Well, just keep government out of it.' I don't believe that." He further added that government has a role in ensuring equal opportunity — a position that is a far cry from anything we've heard from the current GOP field. (Santorum's spokesman did not respond to Mother Jones' requests for comment.)
Present day Santorum has called President Obama's health care plan tyrannical and (as Mother Jones notes) said he was "always for having the government out of the health care business." Recently, he's also demanded that Romney "come clean" about a 2009 op-ed in which Romney said Obama "could learn a thing or two about health care reform from Massachusetts."
"You know, it's bad enough that he recommended it," Santorum said at an event in Ohio. "It's worse that he wouldn't come clean with the people in this primary that he did it."
While he's digging up his opponent's past, it seems Santorum has been busy burying his own record.
Have a tip we should know? tips@mediaite.com