In 2016 Bezos Said the Echo Was Harder to Hack Than Phones — Do His Reported Sexts Prove It?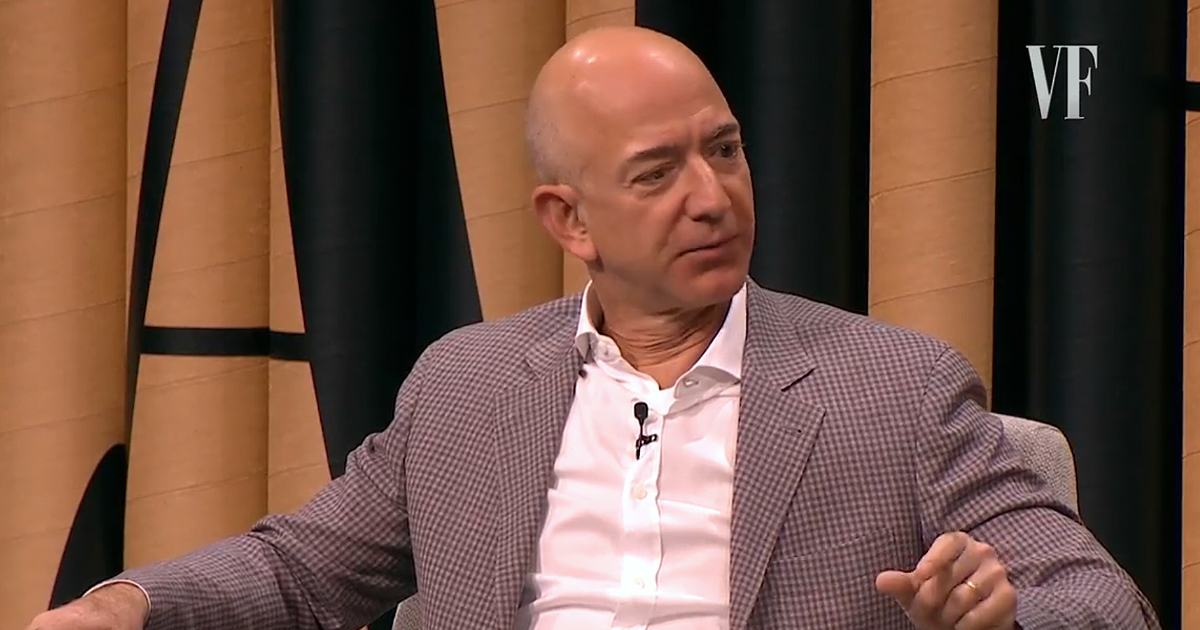 The National Enquirer didn't have Amazon's Alexa track Jeff Bezos in their four-month investigation into his apparent extra-marital affair. But they did get into his cellphone, it seems. Which is, in a way, an illustration of a comment Bezos made almost three years ago amid privacy concerns about Amazon devices.
At Vanity Fair's 2016 New Establishment Summit, the tech giant CEO addressed what was then, and remains today, a hot issue regarding his company's products: privacy. The Echo devices in particular have been under scrutiny or the subject of consumer fears thanks to the built-in microphone, which activates on a "wake word" and processes the user's commands in the cloud.
"We've done something a little unusual with Echo," he said at the time. "It would be no different from your phone, but we went one step further than what's done on a phone. When you hit the mute button on Echo, that red ring comes on that says the microphone is turned off. That mute button is connected to the microphone with analog electronics. You have to come physically tamper with the device. You couldn't do it with a computer virus."
"One of the great issues of our age is going to be privacy," Bezos said at the time, and explained that mobile phones are a greater security risk, at least with regard to listening in on you, because their microphones are controlled by software, which can be hacked.
The relative insecurity of mobile devices has been an ongoing privacy concern for most major tech companies and their consumers for years. And in a strange twist, it appears that Bezos has himself become a victim of that very thing, as the National Enquirer on Thursday published a story which claims they not only have texts between Bezos and alleged mistress Lauren Sanchez, who is also married, but that some of those texts include lewd and nude photos.
So-called tech genius Jeff Bezos sent a series of sleazy photos, X-rated selfies and explicit texts across the internet — all behind wife MacKenzie's back!
[…]
A cache of lewd selfies taken by Bezos and seen by reporters from The ENQUIRER are so shocking we dare not print them — but their existence could devastate his standing in the upper ranks of the tech world.
The newsworthiness of the tabloid story hinges on the timing, which they claim show the exchanges took place before he and his wife agreed to separate.
The question of privacy in technology companies has been as big or bigger than the question of "bias" in the last few years. Along with Amazon's devices and vast database of consumer preferences, there is Google and their data storage and tracking, Facebook, and their legion of privacy debacles, and the list just goes on.
"I would posit to you that just about any nation state in the world worth its salt can put a computer virus on your phone, anytime they want, and listen to everything you say from your cellphone," said Bezos back in 2016 as he compared the technologies.
In this case, it seems it was a tabloid listening, and not a government or world leader.
Well… probably not.
Oh by the way, if you're wondering, Bezos uses the Amazon Fire Phone. So when it comes to the security of devices, if this was a hack then it still doesn't offload the question from his own company. Ouch.
[Featured image via screengrab]
—
Follow Caleb Howe (@CalebHowe) on Twitter
Have a tip we should know? tips@mediaite.com