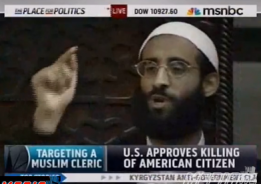 It's true. Both the New York Times and the Washington Post are running articles today confirming that the Obama administration has authorized the "targeted killing" of New Mexican-born, radical Muslim cleric Anwar al-Awlaki. From the New York Times:
The Obama administration has taken the extraordinary step of authorizing the targeted killing of an American citizen, the radical Muslim cleric Anwar al-Awlaki, who is believed to have shifted from encouraging attacks on the United States to directly participating in them, intelligence and counterterrorism officials said Tuesday.
And yes, this is a first. According to Glenn Greenwald, while a program that allowed the Joint Chiefs of Staff compile "hit lists" of Americans existed under George W. Bush, it was never implemented. Greenwald finds this new development utterly alarming.
No due process is accorded. No charges or trials are necessary. No evidence is offered, nor any opportunity for him to deny these accusations (which he has done vehemently through his family). None of that.

Instead, in Barack Obama's America, the way guilt is determined for American citizens — and a death penalty imposed — is that the President, like the King he thinks he is, secretly decrees someone's guilt as a Terrorist. He then dispatches his aides to run to America's newspapers — cowardly hiding behind the shield of anonymity which they're granted — to proclaim that the Guilty One shall be killed on sight because the Leader has decreed him to be a Terrorist.
American or otherwise, Representative Jane Harman (D-CA) and chairwoman of a House subcommittee on homeland security, the other day called Mr. Awlaki "probably the person, the terrorist, who would be terrorist No. 1 in terms of threat against us." Video of MSNBC's report on the decision below.
Have a tip we should know? [email protected]