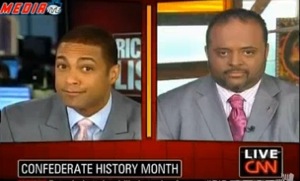 "Happy Confederate History Month!" That's how the following segment on CNN starts, with host Don Lemon asking CNN analyst Roland Martin to share his thoughts on the decision of some Southern U.S. states to recognize their Confederate history. Rarely do we see so we such emotion and passion on CNN, but in short, we'd like to see more. Because this is great television. To sum up Martin's impassioned critique: "this is a celebration of American terrorists!"
As Frances Martel wrote earlier about the celebration:
April is now officially Confederate History Month in the State of Virginia, as per a proclamation from the office of Governor Bob McDonnell. Understandably, many in the media are now up in arms over the glorification of slavery, racism, and treason, but it's ok, McDonnell says the move has nothing to do with slavery– it's only a tourist trap.

The month was chosen for a reason: it was the time during which Virginia first joined the Confederacy, and the weather is great for attending civil war reenactments! Plus, the declaration notes that Robert E. Lee called for unity after his army was crushed into submission, so that's enough to call him a patriot, right?
Don Lemon started it off by quoting McDonnell's comment on his website, and asked what it gained him politically. If there were ever a topic perfectly suited for the left-of-center Roland Martin, this is it. Lemon tried to bring it back to freedom of speech issues, but Martin interjected "Don. They were terrorists!" And that's just the start.
Have a tip we should know? tips@mediaite.com