Indiana 'Religious Freedom' Law Opens Door to Marijuana Church — No, Seriously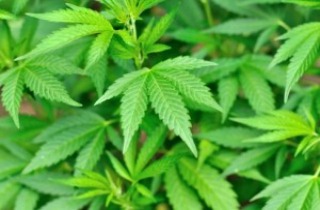 There may be some, shall we say, unintended consequences from Indiana's recently-passed Religious Freedom Restoration Act, which supporters say protects religious liberty while dissenters contend the law allows for discrimination against LGBT individuals.
A marijuana activist in Indiana wants to use the law to deem the First Church of Cannabis a "religious sect," reports The Huffington Post, in order that they can freely use marijuana in the state, where it remains banned.
"It's a new religion for people who happen to live in our day and age," founder Bill Levin told HuffPo. "All these old religions, guys walking across the desert without Dr. Scholls inserts, drinking wine out of goat bladders, no compass, speaking Latin and Hebrew — I cannot relate to that sh*t. I drive by Burger Kings, bars and corn fields. I cannot relate to an antique magic book."
–RELATED: Indiana Lawmakers: We're Looking to 'Fix' Controversial Law
According to the group's Facebook page, which was created the day Gov. Mike Pence (R) signed the controversial law, Indiana's secretary of state approved the group's registration as a religious group. As of this writing, the page has about 6,300 likes.
"It has nothing to do with God; I don't have the balls to describe a god to anybody," Levin said. "This is a god-filled or godless religion — it's entirely up to you."
An Indiana-based attorney and political commentator told Raw Story that if Levin can convince state government officials that smoking weed is a religious ideal, he and members of his church have "a pretty good shot of getting off scot-free" — even though marijuana is still illegal in the state.
The faith, according to Levin, will be based on the "universal principals of love, respect, equality and compassion." He even posted a "New Deity Dozen" on the Facebook page, adding they are not commandments.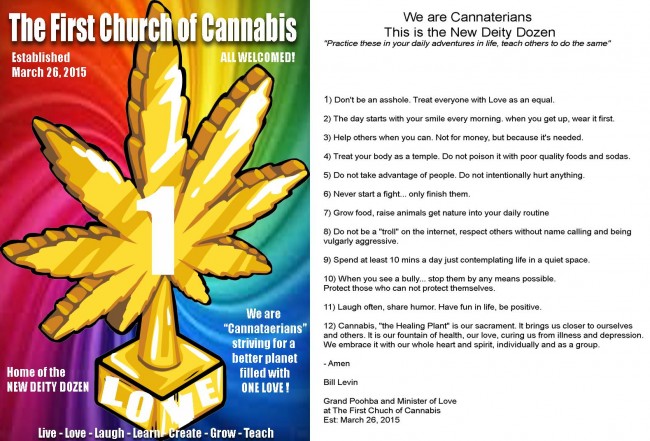 Facebook post below (and note that monthly membership dues are just $4.20…):
[Image via Shutterstock]
— —
>>Follow Andrew Desiderio (@forza_desiderio) on Twitter
Have a tip we should know? tips@mediaite.com