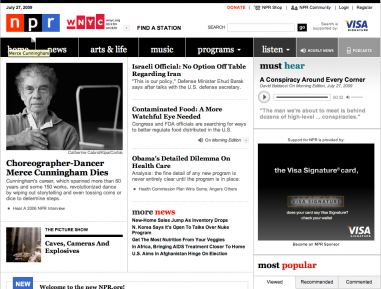 Yesterday NPR rolled out a redesigned NPR.org (our post here). Following the launch NPR News executive editor and editorial director for digital media Dick Meyer answered our questions about the new design and explained the semi-universal essence of NPR stories and the importance of visual vocabulary. In Meyer's mind, the new site looks like NPR sounds.


Scott Simon told us in June at the Personal Democracy Forum that NPR ratings are higher than ever. Is the same true for NPR web traffic?
Absolutely and thankfully.
Obviously last year's long, incredible election drove heavy traffic to NPR.org. And our numbers are up substantially year-over-year.
We're not an organization with a marketing and advertising budget of any consequence, so our growth is driven by the quality of what we do. That's gratifying. Our great hope is that our redesign will not only notch our growth up to warp speed, but help member stations find greater and greater success on digital platforms.
During the redesign, in thinking about synthesizing NPR content for the web, what universal qualities did you notice about NPR content?
Universal – wow, that's high concept.
Our story selection is wildly different than our for-profit competitors and it is eclectic, unpredictable. Our pieces are longer, our sound quotes are longer, our cadence is slower and our hype is, well, non-existent.
We don't program based on market research so our shows aren't a formulaic mix of health, pocketbook, celebrity, natural disaster, crime with a twist of White House and some elections on the side. That is the semi-universal essence of NPR news and stories.
Now, translating that NPR-ish radio sensibility, honed by 40 years of devoted craftsmanship, into digital story-telling is tough.
Think about this: We need to invent a visual vocabulary. It is the NPR sensibility that guides us – and ruthless attention to our vocal, responsive, intelligent and picky community of listeners, readers and podcast people.
What themes were identified in the early stages of the redesign? What feel does the new NPR homepage evoke for you?
To me, the new site looks like NPR sounds. That was the goal.
It is important to us that the site feels dignified at first glance; by that, I mean non-commercial, not self-promotional, not full of hype and false promise. A mix of levity and sobriety, of hard news and features, analysis and pure story-telling.
We wanted a site that was cleaner, lighter and more airy. We felt that was necessary to elegantly accommodate our radically eclectic content.
The executive producer of Morning Edition, Madhulika Sikka, likes to say that on good days, we hit the right balance of "wonk and whimsy." We tried to express that in design.
We are News, Arts & Life and Music; we're not News, Weather and Sports. There are 500 sites for that. We are not that. I hope the design captures us.
But here's the key thing: The new design is extremely flexible. We've launched it — now let the tinkering begin. If we pay close attention, our users will tell us how to improve what we do.
Do you expect the new NPR.org to help drive traffic to local public radio sites or replace them?
This new site is just one component of a very careful and deliberate strategy to build a true 21st century public radio digital network.
NPR's whole and enormous advantage is the ability to gather (and distribute) independent, high-quality news on the micro-local, local, national and international levels. So replacing local sites? No way. That would be extreme failure. Growing local sites – local audiences — is a central measure of success.
Will we ever see ad networks (Google Ads, for example) on NPR.org?
Never say never in the modern era, but we are a non-profit and we have very strict standards about the kind of sponsorship we accept and then how we display it.
How will the site continue to grow in the coming months, aside from the new mobile features that you mentioned in your Note to the NPR Community?
First of all, all our broadcast-side folks are going through a very high-quality digital education funded by the Knight Foundation, so their contributions – text stories, photography, blogging and some multimedia – are creating a robust new stream of material.
Also, NPR has had modest success with blogging, but we're set to have jumbo success. So we're going to be patient as we crank that up. And our Music site is growing in a big way.
More broadly, we're going to focus on areas where we have great reporters and great talent and great, proven audience interest and throw resources at those areas. In many cases, these are topics that commercial media are fleeing from as they cope their financial crises. It is our public responsibility to do that and we hope it is good for growth too. So we are pushing to expand some investigative initiatives and accountability projects as well as our foreign reporting. We're also looking to boost our coverage of the arts.
Some of the "Must Hear" clips we see on the homepage are under 35 seconds. Do you have a sense that people are impatient with audio on the Internet? What's the longest clip we'll see in that spot? And how does audio work as a content entry point on the web?
No, "Must Hear" is just a way to sample, to have fun. I expect the clips in that spot will be short, sure, but the users will tell us what to do over time. There is plenty of long form all over the site and all over our podcast world.
But you are right that users are more reluctant to give up their cognitive space to audio and video – which is linear — than to text and photos, where they can control the experience more freely. But we have the finest audio content in the country – news, music, arts. It's a tremendous asset.
The website, though, is just one place where audio "happens" for NPR.
The NPR-National Geographic photoblog partnership is incredible. What other content partnerships is NPR.org interested in rolling out?
I'm not going to spill the beans, sorry. But NPR can afford to be finicky and any partnerships we do will have to be perfect fits.
We're not rushing to the altar. Our community has high standards for us and there just aren't that many outfits as classy, creative and credible as National Geographic. We have some great partners in out Opinion section and we'll have more.
Will NPR.org ever be members-only? Will NPR.org ever have an online subscription plan?
We are a public service. That is our dominant goal, not profits, not growth, not market share. We are chartered to give the public free, universal, high-quality news and information and that is what we will do. Repeat – free.
As editorial director for digital media, Dick Meyer is responsible for all news, entertainment and music content on NPR.org and NPR's other digital platforms.
Have a tip we should know? tips@mediaite.com