Into The Fire: Rachel Jeantel Tells Radio Host Ricky Smiley She Wants To Be A Lawyer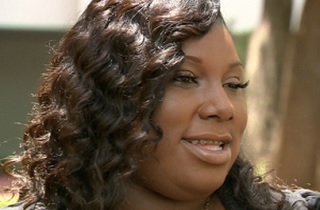 One of the more reluctant media figures to emerge from the George Zimmerman trial was 19 year-old Rachel Jeantel, the last person to speak to unarmed teenager Trayvon Martin, aside from the man who killed him. Her contentious exchanges with defense attorney Don West sparked conversations about cultural differences, and the way many in the media reacted to them. Jeantel's unpleasant experience in the courtroom hasn't scarred her too deeply, however, as she told radio host Ricky Smiley, last week, that she aspires to become an attorney.
Jeantel's time on the witness stand was a focal point of the trial, and was characterized by an intensely antagonistic repartee with defense attorney Don West, who seemed to be trying to provoke Jeantel into reacting negatively, and to present her as a sullen proxy for absent victim Trayvon Martin. Since the trial, she has made several media appearances, and provided insight into the dynamic between her and West.
That dynamic apparently hasn't soured Jeantel on West's profession, though. In an interview with Ricky Smiley last week, Jeantel said she hopes to go to college, with a little help from Smiley and radio superstar Tom Joyner:
EBONY STEELE: Right. And so many people have come to your defense and uplifted and supported you, one of those being Tom Joyner who has offered a full scholarship for you to go to college. Congratulations on that. He went to Tuskegee University, and so yes, I hope you Tuskegee, but that's okay, as long as you …

RICKEY SMILEY: And the Rickey Smiley Morning Show is gonna buy your first semester of books.

RACHEL JEANTEL: (Laugh) Oh, thank you so much. Thank you, Rickey.

RS: You're welcome, baby. We don't have Tom Joyner money, but we'll get them books for you though.

ES: We'll get them for you.

RS: And we're going to take you to Target to get you, you know, drawers, deodorant, shampoo.

ES: I'm not — would you stop saying drawers?

M: It's not like she's going to need them if she's getting ready to go to college.

ES: They're panties. They're underwear. Don't say drawers.

RS: Okay, ain't that right. Rachel? Right?

RJ: Yes, Rickey.

RS: (Laugh)

RJ: (Laugh)

ES: So Rachel, in that, what, what, because, in one of the interviews last night I saw that, uh, they were talking about, of course, the past year and a half of your life has been a whirlwind. You have not yet completed high school but you want to do that so that you can go to college, correct?

RJ: Yes, I am.

ES: And what do you want to major in?

RJ: Law enforcement. Or I've been thinking about an attorney, becoming an attorney. You never know.

RS: I'm sure this case right here is definitely an inspiration. You know?
Here's the interview, from The Ricky Smiley Show:
Have a tip we should know? tips@mediaite.com