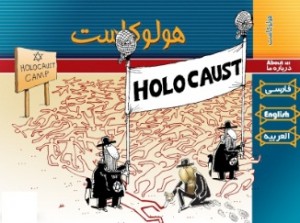 A new Iranian website has launched, dedicated to denying and mocking the Holocaust, particularly through caricatures. The website, holocartoons.com, has unsurprisingly angered Israel — and is actually relatively consistent with President Mahmoud Ahmadinejad's views.
The website — which can be viewed in Farsi, Arabic and English —  features several cartoons and dedication to those who died "under the pretext of the Holocaust." The Pink Panther theme music plays in the background.
The Yad Vashem Holocaust Memorial Centre in Jerusalem called the website "the latest salvo emanating from Iran that denies the facts of the Holocaust and attempts to influence those who are ignorant of history."
From a statement issued Thursday:
"The vulgar and cynical approach of the website, a combination of Holocaust denial and distortion, illustrated with anti-Semitic caricatures, further illustrates Iran's disregard for reality and truth vis-a-vis the Holocaust, Jews and Israel."
Ahmadinejad has expressed anti-Semitic and anti-Israel views numerous times in the past, and caused a stir when he called the Holocaust a "fairy tale" in 2005. Iran's clerical regime has "repeatedly questioned or denied the Nazi genocide of 6 million Jews" and the country has hosted a conference "endorsing Holocaust denial."
On the more technical side, the website has painfully slow loading times, testing the patience of its visitors. Salon's Judy Mandelbaum argues that this is what will prevent the site from becoming a problem:
If you can endure the excruciating loading times and then commit to slogging your way through all the primitive, intellectually insulting drawings and boneheaded texts without nodding off, then maybe, Houston, we really do have a problem. But let me suggest that if this is the best Tehran can throw at the supposedly defenseless West, we can leave Houston to its own devices for some time to come.
We'll just have to wait and see.
Have a tip we should know? tips@mediaite.com