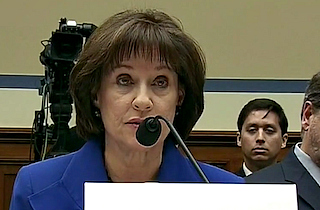 In a press statement on Friday afternoon, House Ways and Means Committee Chairman Dave Camp (R-MI) revealed that the Internal Revenue Service has informed Congress that lost more than two years worth of emails involving recently-resigned official Lois Lerner, who found herself at the center of the 2013 controversy surrounding tax-exempt status of politically conservative groups.
"The fact that I am just learning about this, over a year into the investigation, is completely unacceptable and now calls into question the credibility of the IRS's response to Congressional inquiries," Camp wrote in the statement. "There needs to be an immediate investigation and forensic audit by Department of Justice as well as the Inspector General."
Camp added that the IRS has indicated it possesses intra-agency emails involving Lerner during that two-year span, but it cannot find digital correspondence between Lerner and officials outside the agency.
Camp said the news makes it all too easy for the IRS to claim that Lerner acted alone in directing IRS officials to apply extra scrutiny to conservative groups seeking tax-exempt status. Republicans say those actions appeared to be aimed at helping President Barack Obama's re-election chances, and have been investigating the IRS since the initiative was revealed.
"Just a short time ago, Commissioner Koskinen promised to produce all Lerner documents," Camp continued. "It appears now that was an empty promise."
He implored further action from the executive branch: "This failure of the IRS requires the White House, which promised to get to the bottom of this, to do an Administration-wide search and production of any emails to or from Lois Lerner. The Administration has repeatedly referred us back to the IRS for production of materials. It is clear that is wholly insufficient when it comes to determining the full scope of the violation of taxpayer rights."
Read the full statement here.
Have a tip we should know? tips@mediaite.com