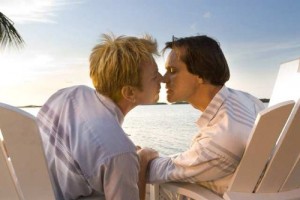 The LA Times is reporting that the Jim Carrey starring film I Love You Phillip Morris has been shelved "indefinitively" by Consolidated Pictures Group, the company that was handling the American release of the movie that premiered at Sundance in 2009.  While a movie getting shelved is no big news these days (even one starring the likes of Carrey and Ewan McGregor), some Hollywood insiders are speculating that the movie's lack or release may have stemmed from its gay themes.
The film (which has already been released throughout Europe) is based on the true story of a con-man (Carrey) who falls in love with his cellmate (McGregor) while in prison.
Hollywood has yet to embrace gay leads in their films and when they do, it's usually the sad, gay martyr trope of Brokeback Mountain and Philadelphia. This new film promised something different as it's been described as basically a Jim Carrey comedy mixed with graphic gay sex. Those graphic scenes have been a problem since the beginning. As movie blog /Film reported, the only reason a small company like Consolidated was handling the movie was because major studios weren't happy with the sex scenes.
The trailer (which was released in January for a March release that never happened) certainly looks like it could have been a profitable film. It would have been interesting to see what the response would have been had it been released in the states. You can watch the trailer below. An earlier trailer (with the gay subject matter noticeably more prominent) can be viewed here.
Have a tip we should know? tips@mediaite.com