Is Ivanka a White House Leaker? Speculation Abounds After Curiously-Timed Puff Pieces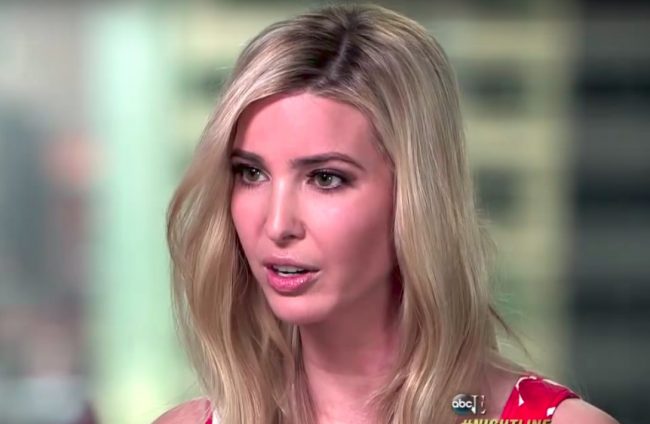 Over the last several days, a number of flattering pieces have been published in various outlets about Ivanka Trump. The stories have come as her father, President Donald Trump, announced the U.S. will withdraw from the Paris climate accord — a move which Ivanka vigorously opposed, according to numerous outlets.
This is not the first time that these types of (often anonymously sourced) articles have portrayed the first daughter in a positive light.
Journalists, politicos, and others have begun to notice.
I'm going to get so sick of this story genre. https://t.co/4UkKLJ3Ueu

— Daniel W. Drezner (@dandrezner) June 1, 2017
You're not there yet?

— Binyamin Appelbaum (@BCAppelbaum) June 2, 2017
Way too many reporters have swallowed the Jared/Ivanka/Dina/Gary are heroes spin way too many times – why does it keep happening?

— Jon Favreau (@jonfavs) June 2, 2017
Imagine if we protected the climate the way the press looks after Ivanka Trump's ego.

— LOLGOP (@LOLGOP) June 2, 2017
This "Ivanka trying to stop her dad" spin is more ludicrous by the day. Does anyone buy it? Why are media outlets dutifully reporting it? https://t.co/dmX3H1SHaU

— Peter Daou (@peterdaou) June 1, 2017
Ivanka and Jared's desire to use the press to send signals to their NY friends is really pitiful. You work in the White House, act like it https://t.co/bkSMpWcWjR

— Dan Pfeiffer (@danpfeiffer) June 1, 2017
Since Ivanka and Jared obviously have a talented comms team, why doesn't the president hire whoever does their press?

— Josh Barro (@jbarro) June 1, 2017
"Now write about how hard I tried to change Daddy's mind on the climate whatever"
"Yes Ivanka, anything else you need in the Post?"

— Oliver Willis (@owillis) June 2, 2017
I never, ever want hear from anonymous sources again about Ivanka Trump's "moderating" role in this Administration. Useless prop.

— Matt McDermott (@mattmfm) June 1, 2017
President makes an extreme decision, and like clockwork there's an anonymous source talking about Ivanka's moderating influence https://t.co/YwzeijeVO8

— Brian L Kahn (@blkahn) May 31, 2017
Why are Ivanka allies pitching this fluff coverage? It's disgusting. Name one substantive accomplishment she has contributed to since Jan?

— Zerlina Maxwell (@ZerlinaMaxwell) June 2, 2017
So why all the Ivanka love from the press? One theory has begun to gain steam.
From the way this first sentence is constructed, I'd put money on Ivanka being a source for Politico. https://t.co/Om9nrRdPD9

— Soledad O'Brien (@soledadobrien) June 2, 2017
Seems obvious that Jared & Ivanka are key WH sources and that some reporters compete to flatter them by portraying them in a friendly light. https://t.co/uN0Jax9VIH

— Nate Silver (@NateSilver538) June 2, 2017
How kind of Ivanka to leak this self-serving story to the press. https://t.co/4bFNUb3pTW pic.twitter.com/qZFQNw30wB

— Keith Boykin (@keithboykin) May 31, 2017
And who do we think is the source for this story? *cough* Ivanka *cough* https://t.co/pVSjUfTtJl

— Sarah Churchwell (@sarahchurchwell) June 2, 2017
In a piece for The New Republic, Brian Beutler voiced his agreement with those who point to Ivanka as a White House leaker, and blasted those who continue to write flattering pieces about her.
"[E]very political reporter will at some point find that such "well-placed" anonymous sources aren't necessarily sources worth listening to. They lie, or they bullshit, or they think they know more than they do, or they self-deal one news clip at a time. Or some combination thereof. That's Ivanka."
[image via screengrab]
——
Follow Joe DePaolo (@joe_depaolo) on Twitter
Have a tip we should know? tips@mediaite.com
Joe DePaolo - Senior Editor