Is NY-26 Really Just A Referendum On Medicare? The Mainstream Media Seems To Think So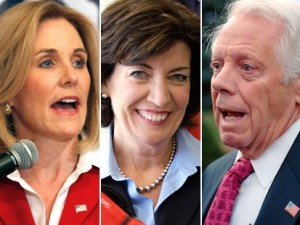 It seems like everything is a referendum on something these days, but political parties have gotten into the habit of claiming individual races across the country are really these huge referendums on some big controversial policy. And I'm not sure that makes sense.
Many pundits have predicted that the new Republican plan for Medicare, as proposed by Rep. Paul Ryan, would be the deciding factor in today's special election in New York's 26th congressional district.
Talking Points Memo chose the headline "Win Or Lose, NY-26 Is An Ominous Blow To GOP's Medicare Phaseout Plan," while The Nation opted for "Will the Revolt Against the GOP's Cuts Turn a Republican District to Democrat Kathy Hochul?"
The seat previously held by Rep. Christopher Lee (R- Craigslist) is up for grabs in a tight race pitting Democrat Kathy Hochul against Republican Jane Corwin. The race has also been shaken up by independent candidate Jack Davis, a businessman running on a Tea Party platform. Current polling gives Hochul a slight edge over Corwin heading into today's election.
Corwin is one of the biggest Republican voices supporting Paul Ryan's Medicare proposal, which would represent a significant overhaul of the current system, and Hochul has capitalized on this policy disagreement in a number of attack ads. Corwin shot back in an ad of her own, flipping the script and suggesting it is Hochul who would make unpopular cuts to entitlement programs.
House Majority Leader Eric Cantor argued yesterday against the referendum narrative. He told reporters that "[t]his race is about the fact that it's a three-way race." He believes the inclusion of Davis has made the race closer than it could have been with just the two major-party candidates. Cantor may be on to something, as the most recent polling has found the Tea Party candidate with over 10% of the vote, a margin that could hand an easy victory to Corwin if Davis was out of the running.
Cantor then specifically addressed the Medicare plan and disputed its significance in the race:
"I do not think it can be seen as a signal as to the role of the budget reforms that we have proposed, including that in Medicare," he said. "I know this town loves to take signals from individual races. I think the best signal you can take is the 63 seats that we picked up in November."
Local races can be influenced by national issues, but such influence is often overstated. NY-23's special election in 2009 (another three-way race) was branded as a referendum on President Obama. For those of you who don't remember, that election ended with the Republican dropping out and endorsing the Democrat.
What's important about local elections is that most voters look at issues specific to their communities first and foremost, before judging the candidates on national issues. In addition to addressing Medicare in her ads, Hochul also brought up her work as a "stop-the-tolls pioneer." Corwin cited her small business experience in several ads to present her credentials for local job creation.
Those issues are just as relevant as Medicare, if not more so, to the voters in NY-26. A Siena poll [PDF] taken last Saturday asked voters which issue is most important to them. The result? An almost even split between Medicare, jobs, and the federal budget deficit, each polling around 20%. Those who cited Medicare overwhelmingly supported Hochul, budget-conscious voters sided with Corwin, and jobs voters split down the middle.
By tonight, we will (hopefully) know the winner of the special election. But by framing it as a one-issue campaign and sticking with that narrative, the media has given people an incomplete picture of the race and leaves out a number of other reasons why the election turned out the way it did.
Photo H/t AP Photos
Have a tip we should know? tips@mediaite.com
Josh Feldman - Senior Editor