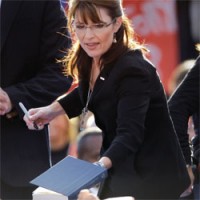 What a difference a Christmas holiday makes! There was plenty of speculation earlier this week that President Obama would be returning to a much different Washington post the Underwear Bomber (and that was before 'Black Tuesday'!) but looks like the landscape may have changed for Sarah Palin as well, as least where books are concerned.
After taking the publishing world by storm with her memoir Going Rogue it may be the book industry has gone a bit sour on the Wonder from Wasilla. Michael Calderone reports that a former NBC reporter who was signed to Wiley to pen a book about Palin's "rise to national prominence as the Republican vice presidential nominee this year, and her subsequent fall from grace," is no longer working on the project, because there is no project:
In December 2008, Berger signed a deal with Wiley to write a book on Palin, which he tells me is no longer happening. "The marketplace changed, and we decided not to move forward with the manuscript," Berger said.
Which is strange. Admittedly this is not the same as a publisher canceling a book by Sarah Palin, which would be even stranger. However has the publishing marketplace really changed that much where Palin is concerned? She is a known quantity, which is the sort of thing the struggling publishing industry is interested in these days. Also? The media loves her (in the sense that all publicity is good-ish publicity). Anyway, sounds to me like there is something else at work here beyond the marketplace changing, because I don't see Sarah Palin becoming less saleable anytime soon.
Have a tip we should know? tips@mediaite.com