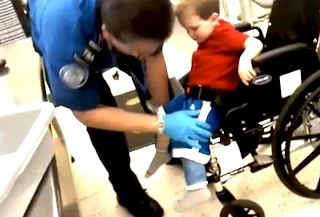 Has TSA finally gone too far? A video from 2010 — that just recently surfaced — featuring a young child strapped to a wheelchair being pat down by TSA is taking social media by storm. The incident occurred during the spring of 2010 at Chicago O'Hare International Airport during a family trip to Disney World. The child's father was enraged by the security check of his son. "I was told I could NOT touch him or come near him during this process. Instead we had to pretend this was 'OK' so he didn't panic," according to comments on the video purporting to be the child's father.
RELATED: Kentucky Senator Rand Paul Detained By TSA
The video, which was uploaded March 17, describes the child's ordeal with the TSA agent:
A toddler in a wheelchair is stopped by the TSA at ORD (O'Hare Airport in Chicago) and forced to into a sequestered area. On his way to a family vacation in Disney, this 3 year old boy is in a body cast for a broken leg. Despite assurances from his father that "everything is ok", he is physically trembling with fear while he watches his two siblings, mother, father, grandfather and grandmother pass through along with everyone else…only to be singled out.
According to MSNBC.com reporter, Harriet Baskas, the boy's father, Matt DuBiel, said the video was made in spring 2010 during a family trip to Disney World. "We had a baby five weeks ago, and I was looking at some old family videos on Saturday night, and I got incensed and emotional watching it."
He tells Baskas that he didn't feel his complant was outside the statute of limitations. "It doesn't matter when it was. That's the TSA and that is my son. And he is wearing a body cast. The TSA agent did the best he could with a ridiculous situation, but someone should have stepped in and said, 'That's enough.' "
Baskas said that TSA notified her they were reviewing the incident.
Watch the video below:

(h/t MSNBC)
Have a tip we should know? tips@mediaite.com