Ivanka Trump's 'Life's Mission' Is to Help Working Women — Just Not the Ones Who Work for Her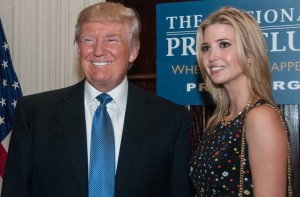 President Donald Trump's children are not having good weeks. Amidst scandal over Don Jr.'s troubling communications and meetings with Russian nationals for dirt on Hillary Clinton, a bombshell new investigative report by The Washington Post suggests Trump Jr. isn't the only of Trump's children who's royally screwed up recently.
Ivanka Trump, author of Women Who Work and the same woman who's claimed repeatedly that her "life's mission" is improving conditions for working women, heads a company that reportedly exploits, underpays, and abuses factory workers in China and Indonesia. Some of these factory workers are working mothers, struggling to make ends meet and provide for their children and families.
Employees of a factory for Ivanka's brand based in Dongguan, China told the Post the company refuses to offer sick pay unless workers are hospitalized, and avoids paying for overtime work by outsourcing to unregulated one-room factories in Dongguan's back streets. And according to workers, there's no way to fight this.
"If you don't work, other people will," one woman at the company's Dongguan subsidiary Yen Hing Leather Works told the Post. "If you protest, the company will ask the police to handle it. The owner is very rich. He can ask the police to come."
While executives for Ivanka's brand denied that the Yen Hing factory made its products, the manager at Dongguan told the Post the factory did, however, used to make Trump products.
Representatives of Ivanka's brand, including its president, Abigail Klem, have cited the company's smallness and newness as an excuse to abuse and exploit working women. Where other brands have increasingly moved to adopt policies to enforce protections, audit factories, and be more transparent, Klem claims Ivanka's brand "had not yet matched the policies of other labels because it was newer and smaller … but is now focusing on what more it can do."
"As a small, young brand, we did not have the chance to influence the debate around social compliance issues," she said. "But that has obviously changed during this past year."
And yet so far, not Klem, and certainly not Ivanka, no one from Ivanka's brand has been able to speak to the incredible irony of the self-proclaimed feminist First Daughter reportedly looking the other way when it comes to the exploitation and abuse of factory workers making her products.
The report should make one thing very, very clear: Ivanka and her passionate advocacy for maternal leave policies, for encouraging women to take on more responsibilities in their corporate workplaces, wants to improve the lives of white, American working women who are already wealthy and privileged. Her brand is a textbook case of self-serving and grossly hypocritical white "feminism," and someone needs to explain to her that "feminist" isn't just some designer label she can wear to help herself and no one else.
If she was actually the slightest bit concerned with helping women across racial and socioeconomic lines, the feminist movement would embrace her. But Ivanka isn't fighting for anyone but herself and women like her — and until that changes, feminists will continue to resist her, just like they resist her father.
[image via Albert H. Teich / Shutterstock.com]
This is an opinion piece. The views expressed in this article are those of just the author.