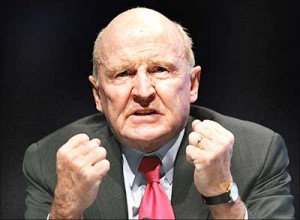 Jack Welch is resigning from his role as contributor to Fortune magazine. Welch's resignation comes on the heels of a controversial tweet claiming that the latest jobs numbers were cooked by the Obama administration to distract from President Obama's lackluster debate performance last week. Welch made it clear after his tweet that he wasn't kidding, and was just asking a "fact-based" question about the new numbers.
RELATED: Maddow Tears Down Right's Jobs Report Conspiracy Theories: A 'Controlling Dictatorial Impulse'
Stephen Gandel, a writer for Fortune, explained why Welch is severing his ties to the magazine, pointing out that Fortune and affiliated site CNNMoney reported on stories unfavorable to Welch in the wake of his comments.
CNNMoney, which shares content with Fortune.com, ran a story on Friday covering Welch's tweet. The piece said that even conservative economists thought Welch was wrong to question the jobs numbers. On Tuesday, Fortune.com ran a story detailing Welch's record as a job destroyer. GE lost nearly 100,000 jobs during the 20 years in which Welch ran the company. "I never put myself out there as an employment agency," Welch told Fortune.

Following the story, Welch sent an e-mail to Reuters' Steve Adler and Serwer saying that he and his wife Suzy, who have jointly written for Reuters and Fortune in the past, were "terminating our contract" and will no longer be sending our "material to Fortune."
Welch has been making the media rounds since his initial claim, sitting down on Fox News and getting into a heated fight with Chris Matthews on MSNBC.
h/t POLITICO
[Image via]
Have a tip we should know? tips@mediaite.com
Josh Feldman - Senior Editor