Jack Welch: The GOP Needs To Be Nice To Ron Paul When He Drops Out Because They Need His Followers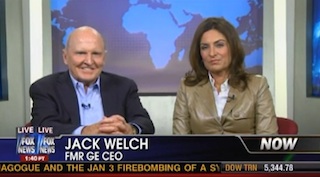 Reuters announced just a few days ago that former GE CEO Jack Welch and his wife Suzy would be writing a weekly column for them. Their first one appeared today and they have been absolutely everywhere promoting it. Fortunately, it's a bit of a doozy. In the column, they argue that Ron Paul will definitely not be receiving the GOP nomination but, even after he drops out, he'll still be deciding the election thanks to his incredibly passionate base.
The big analogy that the Welch's keep coming back to is that of firing people. The GOP needs to "fire" Paul carefully or else they'll lose many young supporters who, as Jack put it, "wouldn't usually pull the 'R' lever."
From the column:
"Now, the GOP isn't technically going to "fire" Dr. Paul. But look, even Ron Paul knows he's not going to unpack his suitcases in the Lincoln Bedroom. At some point, his wildly entertaining, Don Quixote-like campaign for the White House is going to run out of time.

And then?

And then, GOP, watch out! Sure, it appears Paul is unlikely to mount a third-party campaign — he's said so himself. But he's also unlikely to spend the next few months out on the stump for the nominee, or even in dutiful silence. In fact, you can easily imagine Paul as an outspoken TV commentator from now until November, basically running without running just to keep his ideas in the mix.

But Paul is not really the GOP's problem. It's his followers, perhaps as much as 15 percent of the general electorate, many of them young, vocal and highly energized. Like Paul himself, they're not exactly party regulars."
One of the couple's TV appearances was on Fox News' Your World where Eric Bolling asked what the GOP should do with Paul. They proposed giving him a position the same way President Elect Obama did for his former rival Hillary Clinton. Suzy argued that, since Paul's ideas were so "out there," that position would have to be of an advisory capacity while Jack explained that it would be more than worth it if they could come to a point where Paul was appearing on shows like Bolling's own The Five to talk up the candidate.
Hmmm, seems a bit optimistic but who knows?
Bolling then read a response to the column from Paul's campaign in which they stated that they had a "great admiration for Mr. Welch" and appreciate his respect for the supporters, but thinks he forgets that Paul has a clear "path to the nomination." Bolling summarized it as "Thanks but don't write me off just yet." Welch said he thought it was a good response but that he'd "bet the few cents he had that dealing with Mr. Paul will an important task for the nominee"…who clearly won't be Mr. Paul.
Watch the clip from Fox News below:
Have a tip we should know? tips@mediaite.com