Jared and Ivanka Reportedly Plan to 'Review Every Six Months' Whether to Go Back to Private Life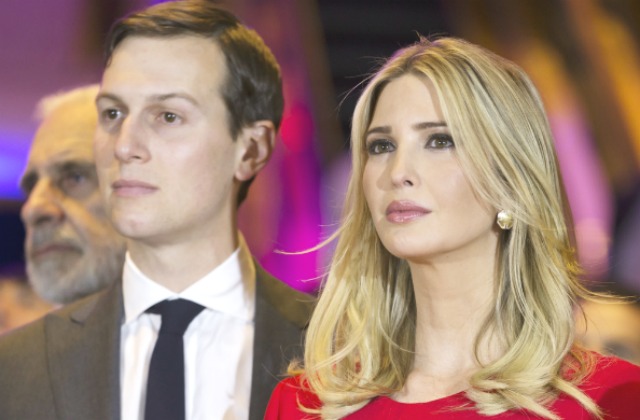 Big new reports this week have put the spotlight on Jared Kushner, senior White House advisor and son-in-law to President Trump. Just last night the political world was set ablaze by reporting that Kushner may have talked to the Russian ambassador about setting up a secret communications channel with the Kremlin.
Michael Hayden, former head of the NSA and CIA, said this morning that such a request would illustrate "ignorance, chaos, hubris, suspicion, [and] contempt."
And while this is yet more bad news for the Trump White House, a report from Politico today says that within those walls, "there is a feeling of resentment among people about Kushner's special status as a family member, and a feeling that it's about time for him to have a turn under the gun."
And then there's the question of how long he will remain in the White House. The New York Times says in a new report that he and his wife Ivanka Trump "have made no long-term commitment to remain by Mr. Trump's side, saying they would review every six months whether to return to private life in New York."
Both of them, the Times adds, have "complained privately" about the amount of scrutiny he's facing, and at one point they allegedly approached the White House counsel as more reporting on Russia came out:
As reports emerged about investigators' focus on Mr. Kushner, he and Ms. Trump discussed the possibility of having Donald F. McGahn II, the White House counsel, issue a statement denying that Mr. McGahn had been contacted by federal officials about Mr. Kushner. Mr. McGahn, who has been increasingly uneasy in his role since Mr. Trump ignored his advice to delay Mr. Comey's dismissal, said he was not the person to write such a statement, suggesting that doing so would create a precedent requiring a response to each new report. Mr. Kushner's private lawyer issued a statement instead.
It's also revealed in this report that Kushner has been "among those most adamant about limiting Mr. Trump's access to the news media."
One White House official did tell Politico that Kushner just wants to get back to work:
Kushner, who flew home from Rome commercial on Thursday with his wife, Ivanka, after deciding a week earlier to cut his trip short, is not easily ruffled, this person said. His plan moving forward is to keep his head down and focus on his work, including turning his attention back to building his Office of American Innovation now that the foreign trip is behind him.
[image via lev radin / Shutterstock.com]
— —
Follow Josh Feldman on Twitter: @feldmaniac
Have a tip we should know? tips@mediaite.com
Josh Feldman - Senior Editor