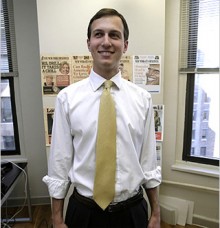 Is there anything else left to know about Jared Kushner? Not after this week's New York article penned by former Observer scribe Gabriel Sherman. Aptly titled 'The Legacy' the piece focuses heavily on the travails of Jared's father, embattled Real Estate scion Charles Kushner, who was jailed back in 2007 for tax fraud, election violations, and witness tampering. There is also ample space devoted to Jared's relationship with Dad and his push to establish himself independently. Duly noted as well is his relationship with Ivanka Trump: they are getting married but are not yet engaged, she's converting to Judaism, his mother may or may not approve.
The article doesn't really address Kushner's time at the Observer till close to the end, but there are plenty of juicy tidbits crowded in there regarding his relationship with outgoing editor Peter Kaplan, why the NYO should be making Gawker unnecessary, and how Tom McGeveran landed Kaplan's job (hint: it involves David Blum). Some highlights below:
When Jared bought the Observer, he and Peter Kaplan positioned themselves as partners. "I had no vision for what it should be," Jared says. Kaplan would teach Jared how to be a publisher.
Jared found a lot of the paper incomprehensible and fuddy-duddyish, while Kaplan couldn't quite get over the fact that Jared was the same age as many of his reporters. Kaplan at first tried to mentor Jared like one of his writers. But that only worked for a while. Six months into owning the paper, Jared hired Bob Sommer, a former publicist whose New Jersey communications firm represented the Kushners, to be president. "When I first hired Bob, I said, 'I'm so happy you're here,' " remembers Jared. "He said, 'Why? Because I'm helping you?' And I said, 'No, because no one would believe what was going on here if I tried to explain it.' We called it Weekend at Bernie's, because it was like dead people walking around."
For the Observer job, Jared reviewed twenty résumés and ultimately gave deputy editor Tom McGeveran the interim position and a bare-bones budget. McGeveran is said to have believed that if he didn't accept the budget, Jared would give the job to former Village Voice and New York Press editor David Blum, who had been lobbying heavily for it, saying he could run the Observer for a rock-bottom $900,000. "I didn't expect the public side of this," Jared says. "And I didn't expect to be walking into this at the worst time to be buying newspapers."
At a meeting last month, Jared told his staff that the Observer needed to move on. "Kaplan is a classy guy, but he's old-school," Jared said. "If we were doing our jobs right, Gawker wouldn't have a reason to exist. Curbed wouldn't have a reason to exist.
Read the full article here.
Have a tip we should know? tips@mediaite.com