Jayson Williams Hauntingly Recounts His Downward Fall From Grace: 'Acting Like a Coward'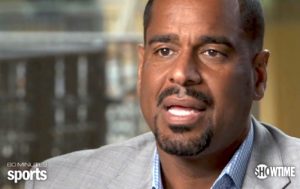 Just one day ahead of his 60 Minutes Sports segment detailing his downfall and road to recovery, former NBA center Jayson Williams — who pleaded guilty in the 2002 manslaughter of a limousine driver in his New Jersey home — spoke with Joe Piscopo of AM 970 THE ANSWER about his haunting past.
Williams pleaded guilty to aggravated assault in the murder of Gus Christofi, and has had a spat of other legal issues, including a DWI and a bar fight in North Carolina.
"I know you're a guy with a huge heart brother," Piscopo said with in his signature camaraderie; Williams most prominently played for the New Jersey Nets.
"Let me start off by saying how sorry I am for causing so much damage to the Cristofi family," he said to Piscopo Monday morning. "I caused a lot of damage in my life to people by just being reckless, and I'm not gonna blame it on drinking: just being reckless… and acting like a coward."
"I don't take any of that for granted," admitting that he was doing his call to the radio show from the Epiphany Treatment Center. Throughout his interview, Williams demonstrated a remarkable sense of self-awareness regarding his personal demons and triggers that lead him to a bad place.
"Without structure came destruction for me," he recounted, identifying the community outreach that he had taken to as a leader in recent years. "You can learn when you get out of treatment to be a better person."
Piscopo gave words of encouragement to his old New Jersey pal, identifying the ways in which Williams was a positive contributor to the community. "Through all the tragedy, I know you as a great guy, I know you as a guy who gave a lot of himself helping children always," Piscopo said.
Williams concluded, "I caused a lot of damage, Joe. And I don't know how to put it back together."
Listen above via AM 970 THE ANSWER, and watch Williams' special with Jon Wertheim on 60 Minutes Sports Tuesday night at 8 p.m. EST on SHOWTIME.
—
[image via 60 Minutes screengrab]
Have a tip we should know? [email protected]
---