Jesse Ventura Loses TSA Lawsuit, Threatens To Run For President And/Or Flee To Mexico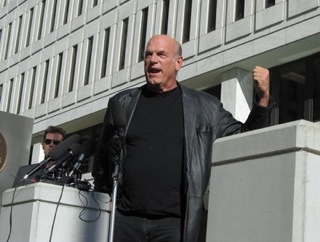 An infuriated Jesse Ventura took the podium at a press conference in Minnesota yesterday after being told that the court in which he filed a lawsuit against the TSA for what he considers an unreasonable search and seizure process did not have jurisdiction over the matter. Railing against the "Fascist States of America," the former Minnesota governor insisted he will "never stand for a national anthem again" and vowed to apply for Mexican citizenship. Ventura also noted he was "thinking about" running for President.
RELATED: Jesse Ventura Sues The TSA Over Body Scanners, "Unwanted Touching"
Ventura, who has had a long, storied career as a Navy SEAL turned professional wrestler turned governor of Minnesota turned outspoken albeit somewhat incoherent political commentator, sued the TSA in January of this year. Explains Yahoo! News:
Ventura has said a titanium hip implanted in him in 2008 sets off metal detectors and that agents previously used hand-held wands to scan his body. He said he was subjected to a body pat-down after an airport metal detector went off last November. Ventura said he hasn't flown since and won't fly commercially again.

Ventura, a political independent who served one term as governor, teased that he might have to run for president to change the policy and a court system he regards as broken. Moments later, he vowed to apply for Mexican citizenship so he can live there more months of the year.
The court struck down the lawsuit because of a jurisdiction issue, and Ventura was told to petition once again elsewhere. He did not seem interested in reapplying or appealing the suit, asking the press during his public statements: "Well my question is if the federal courts don't have jurisdiction over a constitutional question then who the hell does?"
RELATED: Jesse Ventura To Lou Dobbs: 'It's Not Our Government Anymore'
According to Minnesota Public Radio, who have audio of his comments, the press conference was filmed for his program Conspiracy Theory, and Ventura's comments didn't stop at intermittently abandoning his citizenship and running for President. Calling the court "cowards," he also promised not to "stand for a national anthem again," and instead "raise a fist the same way Tommy Smith and John Carlos did in the '68 Olympics." The only solution for Ventura to repair his patriotism, he concluded, was to win a Presidential election. The race to apply for Mexican citizenship, however, indicates Ventura doesn't seem to entirely believe in his chances.
Have a tip we should know? tips@mediaite.com