Jill Stein Gets Predictable Backlash After Calling Castro a 'Symbol of the Struggle for Justice'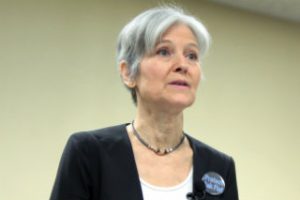 Dr. Jill Stein decided to get in on Saturday night's political conversation by talking about the death of Fidel Castro. SPOILER ALERT: it didn't go very well.
The Green Party candidate has been making waves lately as she raises funds for election recounts in three states. This has occurred despite the fact that multiple parties are questioning Stein's motives and asking what a recount would actually change.
Tonight, Stein decided to change course and talk about the recently-announced death of Cuba's former leader:
Fidel Castro was a symbol of the struggle for justice in the shadow of empire. Presente!

— Dr. Jill Stein (@DrJillStein) November 27, 2016
While Stein holds a more-forgiving opinion, a lot of people have been condemning Castro and pointing to the evidence of how he turned Cuba into a brutal dictatorship. This being the case, Townhall editor and Fox News contributor Katie Pavlich had something to say about Stein's tweet:
Hi @DrJillStein, who exactly is the person being oppressed in this photo? Fidel was a monster. pic.twitter.com/jBl9aMQ2K1

— Katie Pavlich (@KatiePavlich) November 27, 2016
And by the way @DrJillStein, you're free to move out of the United States, the "shadowing empire," and to Cuba at anytime.

— Katie Pavlich (@KatiePavlich) November 27, 2016
And apparently, there were a lot of other people who also had something to say:
Oh jeez. I know twitter doesn't allow for a lot of nuance but please, go do some homework. https://t.co/xdjNeJGmJO

— Soledad O'Brien (@soledadobrien) November 27, 2016
Also, he never had an election close enough to re-count. Or any election, actually. https://t.co/EWSbmgnXlA

— Jonathan Chait (@jonathanchait) November 27, 2016
Fascinating juxtaposition!!!!!! pic.twitter.com/a2DKWKANJu

— Yashar (@yashar) November 27, 2016
Like this idiot https://t.co/y1roYLJLYn

— Alfred Spellman (@AlfredSpellman) November 27, 2016
This isn't just stupid. It's offensive to those massacred for standing up to tyranny & makes mockery of word Justice. #sicsempertyrannis https://t.co/wS2zNDFq3c

— Chip Roy (@chiproytx) November 27, 2016
There it ishttps://t.co/ylNms3zsUE

— Jonathan Martin (@jmartNYT) November 27, 2016
Jill Stein deleted her tweet praising Holocaust survivor and Nobel Peace laureate Elie Wiesel on his death. She hasn't deleted this: https://t.co/JozpOHjxra

— (((Yair Rosenberg))) (@Yair_Rosenberg) November 27, 2016
Jill stein is raising 9 billion dollars on Kickstarter for a second Fidel Castro autopsy.

— Owen Benjamin (@OwenBenjamin) November 27, 2016
If you're a lefty who voted for Jill Stein, you got a two-fer: A Castro apologist and a drain on Clinton's vote total https://t.co/PRJSOjttjg

— Marc Caputo (@MarcACaputo) November 27, 2016
You really can't make up crap like this. She actually said this of a tyrant who murdered thousands and enslaved millions for 5+ decades. https://t.co/8JC7EIfhdS

— Alberto de la Cruz (@albertodelacruz) November 27, 2016
— Ed Henry (@edhenry) November 27, 2016
While you're at it, you should ask for a recount of the last Cuban election. 100% for the incumbent seems a bit fishy https://t.co/lFMtYSvNqx

— Michael C Moynihan (@mcmoynihan) November 27, 2016
[Image via screengrab]
— —
>> Follow Ken Meyer (@KenMeyer91) on Twitter
Have a tip we should know? tips@mediaite.com