Unfortunately, that hobo from David Letterman's final Late Show, Jim Carrey, didn't delete his Twitter account after ranting against California Gov. Jerry Brown (D) and the state's recent pro-vaccine legislation. In fact, the two eye-rolling tweets that initially caught everyone's attention are still there — along with a few other gems.
However, one tweet Carrey issued has been altered after the fact, mainly because of the image it used. It included a photo of Alex Echols, a 14-year-old resident of Eugene, Ore. who suffers from tuberous sclerosis and autism. Carrey chose to grab the photo at random from the Internet and publish it with his anti-vaccination spiel: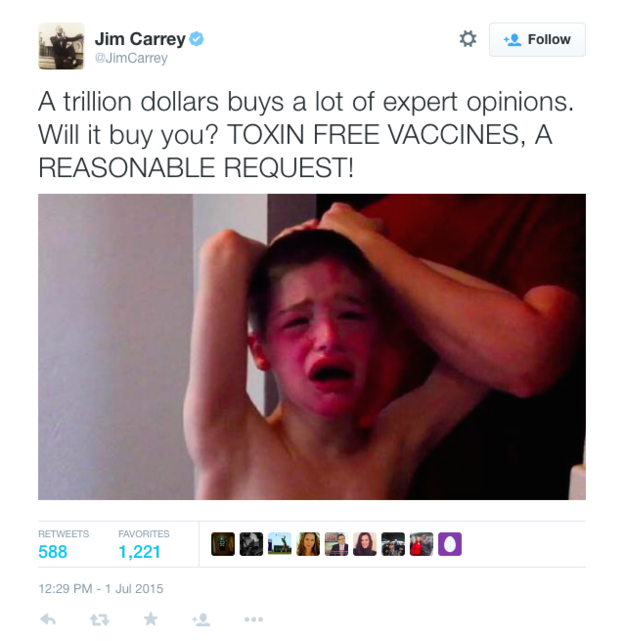 The thing is, whether or not Alex's case has anything remotely to do with vaccinations (as many anti-vaxxers on Twitter have already argued), the photo was used without permission. And BuzzFeed's Virginia Hughes, that made Alex's mother, Karen Echols, angry enough to create a Twitter account and tweet at Carrey, demanding that he remove the image at once.
Alex's aunt, Elizabeth Welch went on her Instagram account to spread the word:
While Carrey's use of the image technically falls under fair use guidelines recently established on social media, as Welch notes, it was the context of its use that bothered the family. As she describes it, Carrey's use of the image with his text was "morally pretty awful."
Carrey's tweet is still online, though the media attached to it has been removed due to a copyright complaint Echols filed with Twitter.
[h/t BuzzFeed]
[Image via Shutterstock.com/Facebook]
— —
>> Follow Andrew Husband (@AndrewHusband) on Twitter
Have a tip we should know? tips@mediaite.com